Syn.: Aechmea fasciata var. flavivittata Reitz, Aechmea fasciata var. pruinosa Reitz, Aechmea fasciata var. purpurea (Guillon) Mez, Aechmea hamata Mez, Aechmea leopoldii Baker, Aechmea rhodocyanea (Lem.) Wawra ex Mez, Billbergia fasciata Lindl., Billbergia glazioviana Regel, Billbergia rhodocyanea Lem., Billbergia rhodocyanea var. purpurea Guillon, Hohenbergia fasciata (Lindl.) Schult. et Schult. f., Hoplophytum fasciatum (Lindl.) Beer, Platyaechmea fasciata (Lindl.) L. B. Sm. et W. J. Kress, Platyaechmea fasciata var. flavivittata (Reitz) L. B. Sm. et W. J. Kress, Platyaechmea fasciata var. pruinosa (Reitz) L. B. Sm. et W. J. Kress, Platyaechmea fasciata var. purpurea (Guillon) L. B. Sm. et W. J. Kress, Tillandsia bracteata Vell.
Family: Bromeliaceae Juss.
Distribution: Found in South America southeastern Brazil. Introduced to cultivation in 1826 and it is still the most sought after of all bromeliads.
Ecology: Grows epiphytically on trees in mountain tropical forests in elevations from 500 to 1200 m. Blooms at maturity only, which could be between 2–5 years depending on growing conditions.
Description: Monocarpic plant, tubular to funnel-shaped rosette, 50–80 cm tall (depending on available light), mature leaves about 50 cm long, up to 10 cm wide, strap-like, tips broadly rounded with terminal spine, dark brown teeth along edges, 4 mm long, covered with silvery, water retaining trichomes, arranged in wide bands on both sides of leaves. Inflorescence on scape about 40 cm tall, erect, scape bracts 5–6 cm long, arrow-shaped with toothed margins, pink, white woolly with trichomes, under inflorescence up to 9 cm long; inflorescence pyramidal, dense, branched at base, simple at top; flowers sessile with bracts, 4–5 cm long, narrowly triangular, toothed edges, brightly pink, covered with trichomes; sepals 10 mm long, rounded, rose pink and covered with trichomes; petals 3 cm long, rounded tips, blue colour changing to pink and almost white towards base. Ovary 6–8 mm long, 5–6 mm wide, conical, trichome-covered. Fruit is a white berry; seeds about 2 mm long, spindle-shaped.
Note: Although this is a tank bromeliad with plentiful supply of water, it is still covered with water retaining trichomes, which would indicate that during the dry season the trichomes supply enough moisture just from the humidity in the air.
In cultivation it is available in several distinct varieties: purpurea with purplish leaves, variegata with leaves variegated with creamy stripes and green edges, and marginata, variegated with creamy edges. The plant is demand for its striking appearance, lasting colour. The spent plant can last for several years before dying and can produce several pups (offsets).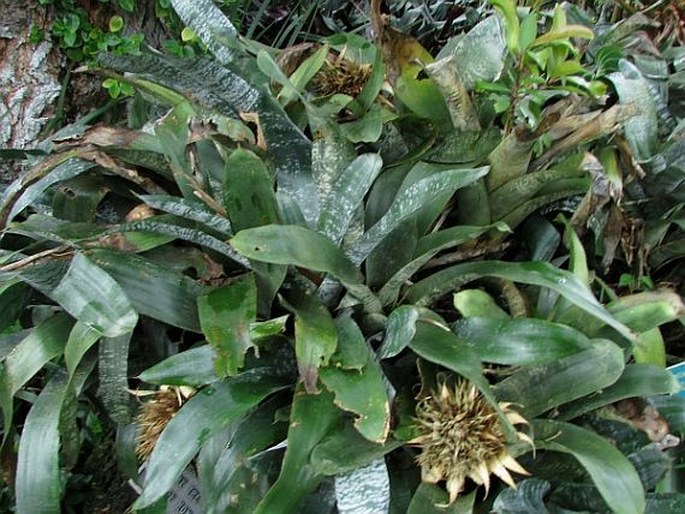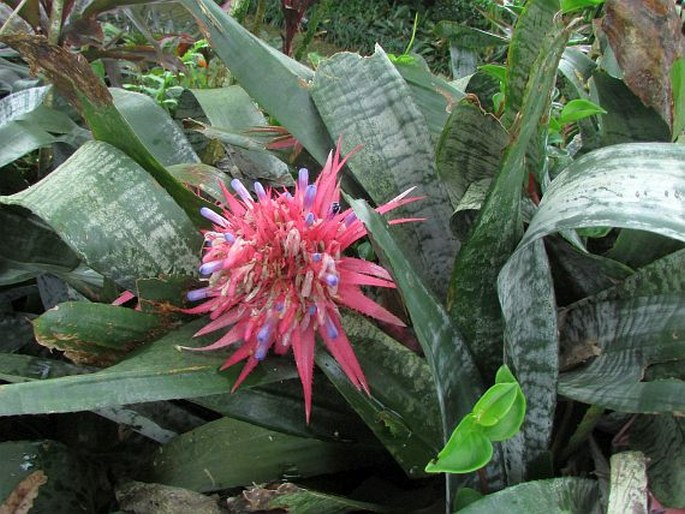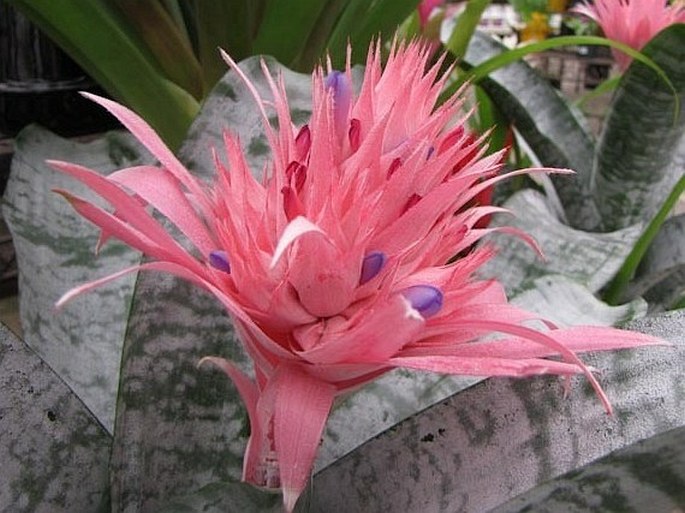 These images were taken in culture – in Canadian greenhouse (by Karel Bergmann) and in USA, the Hawaiian Islands, Oahu, Lyon Arboretum (by Věra Svobodová, 15. 5. 2013).