Syn.: Aerobion citratum (Thouars) Spreng., Angorchis citrata (Thouars) Kuntze, Angraecum citratum Thouars, Rhaphidorhynchus citratus (Thouars) Finet
Family: Orchidaceae Juss.
Distribution: Endemic to Madagascar, it occurs in the eastern part of the island, in the provinces of Antananarivo, Antsiranana, Fianarantsoa, Mahajanga and Toamasina.
Ecology: Epiphytic species, it grows on the branches of trees in tropical evergreen forests, from the coast up to an elevation of about 1500 m. It blooms from August to May.
Description: Perennial herb with short stem, only to 6 cm long. Leaves 2–8, eliptic to obovate, 4–16 cm long and 1–4 cm wide. The inflorescence is racemose, up to 30 cm long, 15–60-flowered; tepals white, sepals oblanceolate, 5–10 mm long, petals and lip obovate to obcordate, 8–12 mm long and 6–10 mm wide, spur 25–30 mm long. The fruit is a capsule.
Threat and protection: This species is protected by CITES agreement.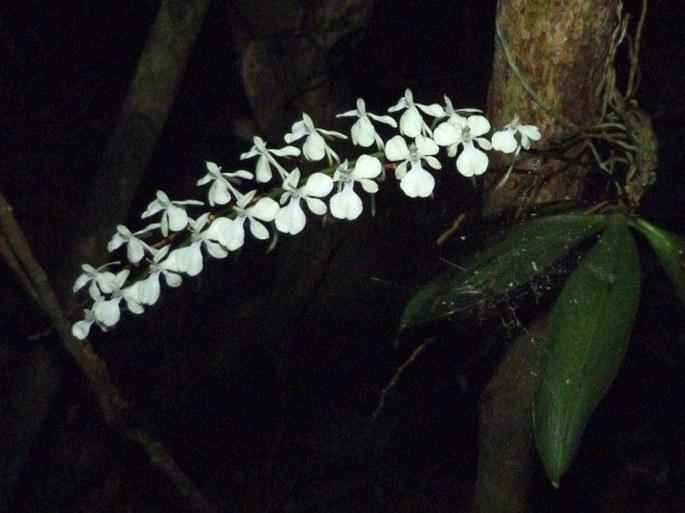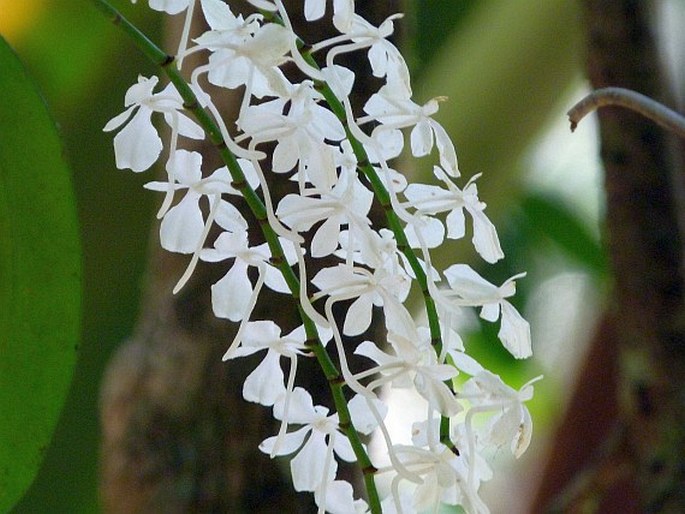 These images were taken by Jindřiška Vančurová in Madagascar, Parc Mitsinjo (October 21, 2016).