Syn.: Allium angulosum Pursh, nom. illeg., Allium aridum Rydb., Allium geyeri var. textile (A. Nelson et J. F. Macbr.) B. Boivin, Allium reticulatum Fraser ex G. Don, nom. illeg., Allium reticulatum var. playanum M. E. Jones
Family: Amaryllidaceae Jaume St.-Hil.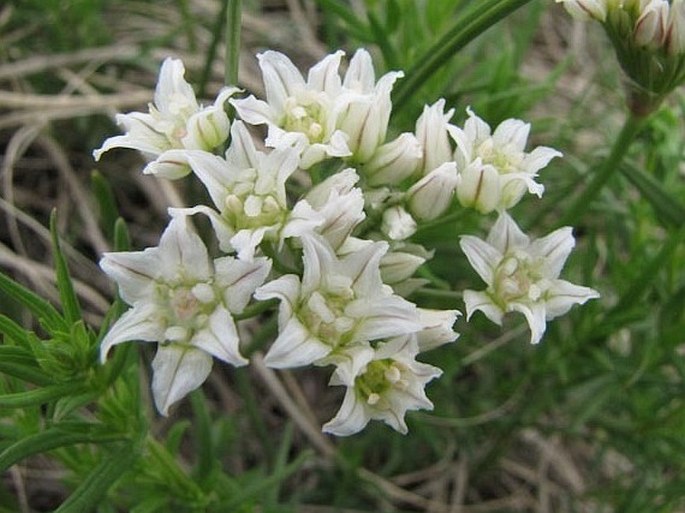 Distribution: North American species found in Rocky Mountains, northwest of the prairies, from central Alberta to the north of New Mexico, to the east towards western Minnesota and to the west towards eastern Nevada.
Ecology: Grows on dry meadows and slopes, at elevation 300 to 2400 m. Blooms from May to July.
Description: Perennial herb with underground slender bulb 1.2–2.5 cm long and 1–2 cm wide; distinctive onion odour. Usually 2 leaves, linear, 10–40 cm long and 1–5 mm wide. The stem is straight, 5–30 cm tall, terminating in an umbel 2–3 cm wide, 10–30 flowered with prominent bracts. Flowers are bell-shaped, white to pale pink, 5–7 mm long, sepals 3, petals 3; stamens 6, pistil 1; sepals and petals with pinkish midribs. The fruit is a three-lobed capsule; 6–12 black seeds.
Note: Textile means "woven", a reference to the fibrous, mesh-like outer coat of the bulb.
These images were taken in Canada, Alberta, Calgary, Bowmont Park (June 2013).