Syn.: Calypso borealis (Sw.) Salisb., nom illeg., Calypsodium boreale (Sw.) Link, nom illeg., Cymbidium boreale Sw., nom. illeg., Cypripedium bulbosum L., Cytherea borealis (Sw.) Salisb., nom. illeg., Cytherea bulbosa (L.) House, Limodorum boreale (Sw.) Sw., nom. illeg., Norna borealis (Sw.) Wahlenb., nom. illeg., Orchidium arcticum Sw., nom. inval., Orchidium boreale (Sw.) Sw., nom. illeg.
Family: Orchidaceae Juss.
Distribution: Circumpolar monotypic species found in northern Europe, northern Asia and in North America, from Alaska, right through Canada and northern US states from coast to coast, in the west reaching California, Arizona and New Mexico. Besides nominate species C. b. var. bulbose of Eurasia, three other varieties are recognized. North American C. b. var. americana and var. occidentalis and east Asian var. speciosa.
Ecology: Shaded, moist sites in coniferous forests, from lowland to 3200 m of elevation. Blooms very early after snowmelt, May to June.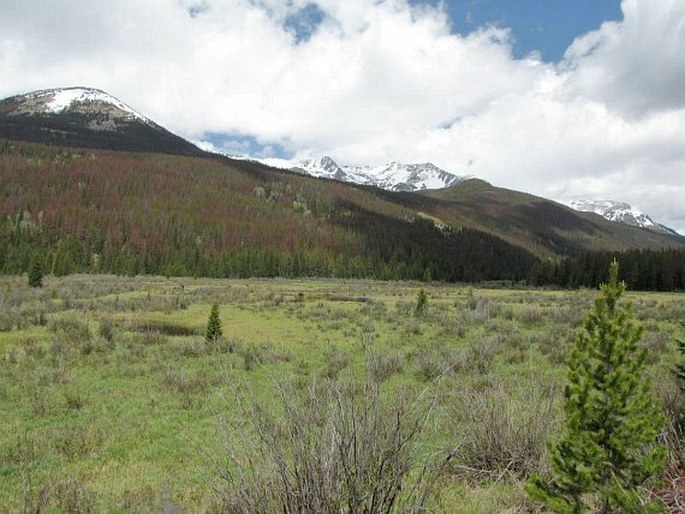 Description: Perennial herb, flowering stems 5–20 cm tall, erect, tinged pink to purple, from a small bulb-like corm, with fleshy roots. Basal leaves only, long petiolate, elliptic to ovate, 10–65 mm long, dark green, distinctly veined, green through winter, fading in summer. Flowers borne singly, 15–20 mm, pink, magenta, rarely white, sepals and petals spreading, linear-lanceolate, lip sac-like, purple streaks inside, yellow bristles on outside next to the sac opening, 2 apical horns on bottom part. Fruit is a capsule, erect, ellipsoid.
Threat and protection: Listed threatened or endangered in many states, included in the Habitats Directive (Council Directive 92/43/EEC) and CITES agreement.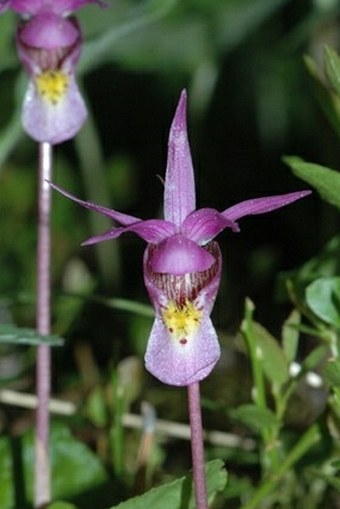 These images were taken by Alexandra Klaudisová in USA, Colorado, NP Rocky Mountains, Kawuneeche Valley (June 12, 2009), and by Karel Bergmann in Canada, British Columbia, Fairmont Hot Springs (May 2012).