Syn.: Brachistus lanceolatus Greenm.
Family: Solanaceae Juss.
Distribution: Central America – southern Mexico (Chiapas, Oaxaca), Guatemala and Honduras.
Ecology: It grows in moist mountain forests and forest margins, at elevations from 500 up to 2300 m asl.
Description: Slender shrub, 1–5 m tall, with pubescent branches, sometimes nearly glabrous. Leaves alternate, in pairs, very unequal in size, sparsely pubescent; larger leaves petiolate, mostly inequilateral, lanceolate to narrowly elliptic, 5–15 cm long, 1.3–4 cm wide, base attenuate, apex long-acuminate; smaller leaves short petiolate or subsessile, ovate, 1–5 cm long, 0.8–2.5 cm wide, apex obtuse. Flowers solitary, or sometimes 2, axillary; pedicels slender, 1.5–3.5 cm long, glabrous; calyx 1.5–2 mm long, with 5 subulate appendages, these 3–5.5 mm long, subequal; corolla white to pale yellow, 6.5–10.5 mm long, glabrous, shallowly lobed. The fruit is a globose berry, 7–10 mm in diameter, orange to red.
Note: The genus Capsicum contains about 25 species which occur in Central and South America.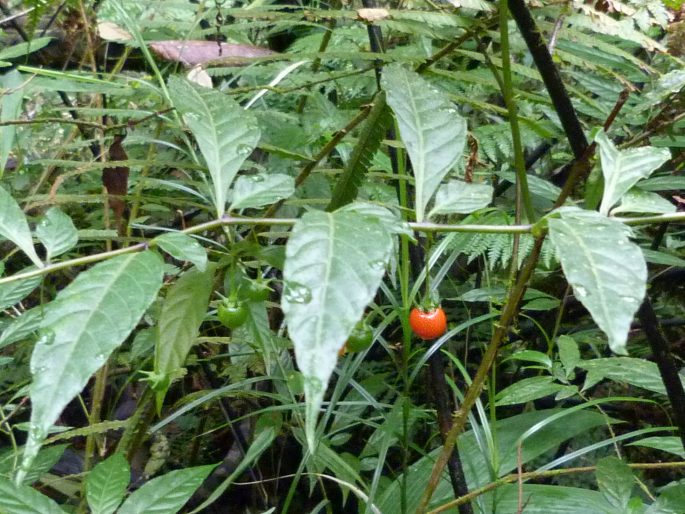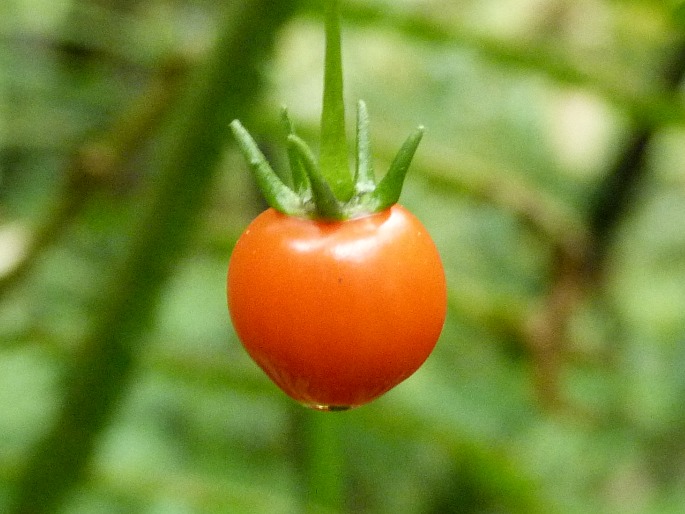 These images were taken in Guatemala, depart. Baja Verapaz, Biotopo del Quetzal (by Jindřiška Vančurová, February 10, 2015).