Syn.: Cardamine serbica Pančić ex Asch. et Kaneh., Pteroneurum carnosum (Waldst. et Kit.) DC.
Family: Brassicaceae Burnett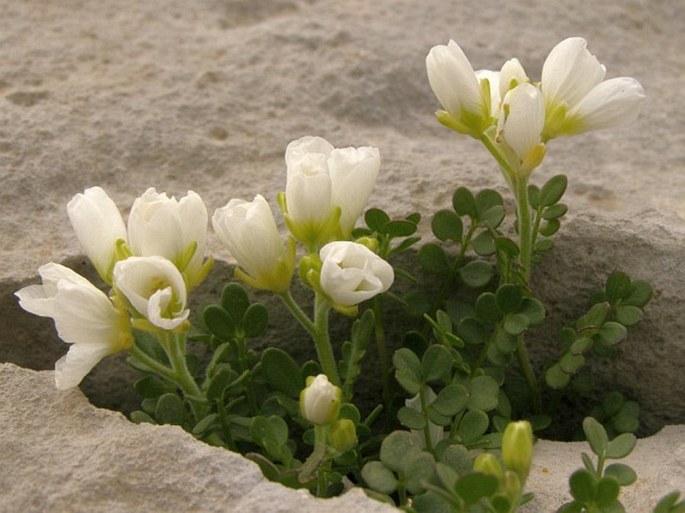 Distribution: Western part of the Balkans, from the Velebit in Croatia through Bosnia, Serbia, Albania and Macedonia to northern Greece, isolated locality is on Chelmos. Surprisingly it isn't known from Montenegro.
Ecology: Slightly damp and often till the summer snowcovered, more or less stabilized screes on calcareous bedrock, occasionally on serpentine. Known from altitudes (900–)1500–2800 m asl. Flowers from June to August.
Description: Perennial herb with a slender, flexuous, far-creeping rhizome producing ascending flowering stems. Leaves short-petiolate puberulent or glabrescent, petiole without auricles. Leaflets 3–5 pairs, slightly fleshy, 4–9 × 2–6 mm, obovate, to broadly oblanceolate, entire, obtuse. Inflorescence corymbose, 4–12-flowered, young pedicels densely grey-puberulent, glabrescent. Sepals 3–4 mm long, eliptical, obtuse, with narrow scarious margins. Petals 6–9 mm long, obovate, blade white, claw yellowish. Ovary and young siliqua densely grey-puberulent. Ripe siliqua 18–30 × 2–2.8 mm, strigose, with glabrous green edges.
Possible confusion: This species is distinctly recognized by its hairy siliqua. In lower altitudes it is replaced by somewhat similar Cardamine graeca L., which is annual or biennial with bigger almost glabrous siliquas and small amplexicaul auricles at the base of the leave petioles. In the mountains of the Balkan Peninsula there are also other similar species with glabrous siliquas – Cardamine glauca Spreng. ex DC., C. plumieri Vill. and Cardamine pancicii Hayek.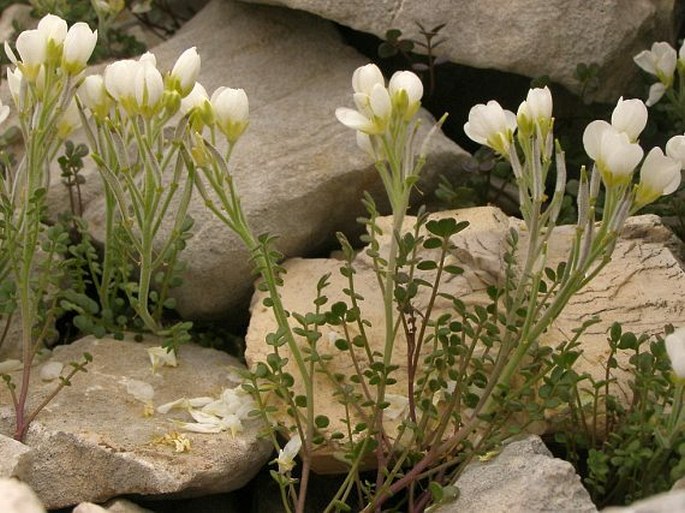 These images were taken in Albania, Mali i Nemërçkës, Përmet (July 1, 2013).