Syn.: Cereus giganteus Engelm., Pilocereus giganteus Rumpler
Family: Cactaceae Juss.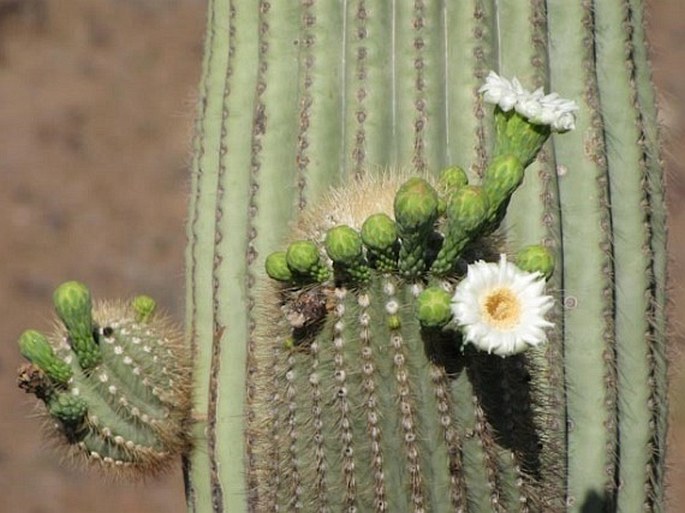 Distribution: Endemic species of the Madrean Region of North America, occurs in the Sonoran Desert in Arizona, partly extends into southeastern California and northwestern Mexican state of Sonora. This is a monotypic genus.
Ecology: It grows in semi-desert and desert areas, in altitude from 180 to 1400 m. It blooms from May to June, the flowers are pollinated by insects, bats and birds.
Description: Gigantic cactus with a distinctive columnar habit, stem 5–15 m tall and 25–75 cm wide. The stem is solitary, simple or branched from the middle of the stem, the branches of the second order are developed only in exceptional cases. The branches are erect or ascending, parallel to the main stem, ribs are strong. Spines (8–)15–28(–50) per areole, 1–3 cm long, white to gray. Flowers usually terminal, 6.5–8.5 cm diameter, nocturnal, tepals strongly reflexed, outer tepals 2–2.5 cm, green, margins whitish, undulate, inner tepals 2–3.5 × 1–1.8 cm, waxy white, margins entire or undulate. The fruits are obovoid to ellipsoid, up to 9 cm long, fleshy, edible.
Use: Native Americans ate the fruits, made juice from them, but also cactus wine, woody ribs were gathered to construct the framework for the walls of their homes. The saguaro spines were used for tattooing.
Possible confusion: In northern Mexico could be confused with Pachycereus pringlei, but this species has branches already in the lower part of the stem.
Threat and protection: This species is protected by the Convention on International Trade in Endangered Species of Wild Fauna and Flora (CITES).
Note: Carnegiea gigantea is the state flower of Arizona. The generic name refers to A. Carnegie (1835–1919), American philanthropist and patron of the systematic study of cacti.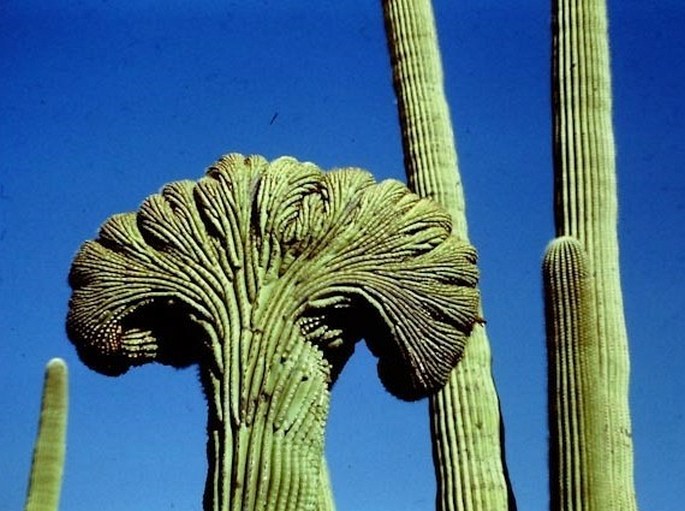 These images were taken in USA, Arizona, Phoenix (by Pavlína Zahradníková, November 2006), USA, Arizona, Saguaro NP (by Karel Bergmann, crested form – September 1972) and Arizona, Organ Pipe Cactus National Monument (by Karel Bergmann, May 2009).