Syn.: Cephalanthera alba (Cranz) Simonkai
Family: Orchidaceae Juss.
Distribution: Europe excluding the northernmost areas, from Asia Minor through Northern Iran to Caucasus, northern Africa.
Ecology: It grows scattered in deciduous woods, from lowlands to foothills. It flowers from May to June.
Description: A perennial herb, 20–60 cm tall, with an erect leafy stem. Leaves are ovate to lanceolate. From 4 to 15 flowers at end of stem, cream-white petals, open only partially. The fruit is a capsule.
Threat and protection: Cephalanthera damasonium is a protected plant in some countries (CZ, SK). This species is also protected by Convention on International Trade in Endangered Species of Wild Fauna and Flora (CITES).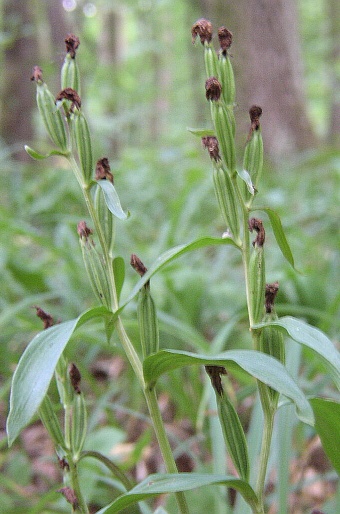 Photos from 9. 5. to 14. 7. 2003 and 24. 5. 2004 (Czechia, Brno, Hády and Hostýnské vrchy).