Syn.: Dovea mucronata (Nees) Mast., Elegia mucronata (Nees) Rchb. ex Kunth, Elegia panicoides Kunth, Restio mucronatus Nees
Family: Restionaceae R. Br.
Distribution: South African species, it is distributed in the Western Cape province from the Cape Peninsula eastward up to Langeberg Mts.
Ecology: It grows in typical South African fynbos vegetation, especially on the windward slopes and in the areas influenced by fogs from southeastern winds. It prefers well-drained, but wet soils, in altitudes between 50–1900 m a. s. l. Flowering time is spring (October to November), seeds ripe before next flowering. The plants are killed by fire and regenerate from seeds.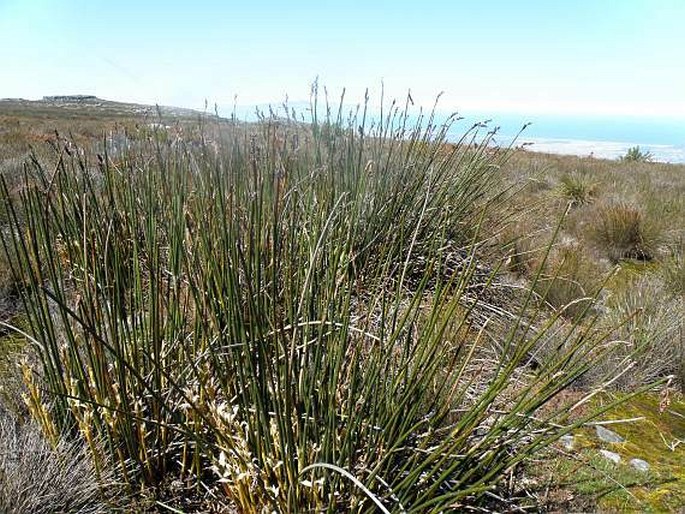 Description: Perennial dioecious graminoid plant up to 2,5 m high; it build smaller tufts from short underground rhizomes; culms 4,5–6 mm in diameter, often slightly compressed, olivaceous, smooth or finely rugulose, unbranched. The leaves are reduced to soon deciduous sheats, they are loosely convoluted, 5–13 cm long, yellowish to brown with tan margin, coriaceous, with narrowly membranous apical margin, acute, mucro is 4–20 mm long. The male inflorescence is paniculate, 5–16 cm long, with more than 20 spikelets, spathes caducous; the spikelets are shortly pedicellate or sessile, elipsoid to ovoid, 4–7 mm long, 2–6 mm wide, with 4–7 flowers; glumes 2–4 mm long, oblong to ovate, acuminate; tepals 2,5–3 mm long. The female inflorescence is interrupted, 6–20 cm long, compound with more than 20 spikelets; the female spathes are persistent, longer than the spikelets; the spikelets are 5,5–16 mm long, with 3–6 flowers, without sterile glumes; the glumes are 4,5–8 mm long, oblong to ovate, acuminate; the tepals are 4,5–6 mm long, nearly the same lenght; the staminodes are present; the ovary is superior, 3-loculate, the styles are 3, feathery. The fruit is a capsule; the seeds are 2,4–3 mm long, caruncula absent.
Threat and protection: It is a rather common species, classified in the South African Red List (2009) as LC (least concern).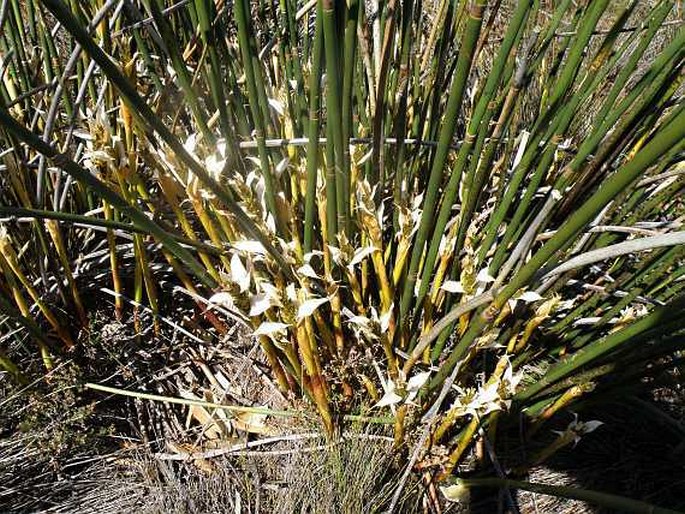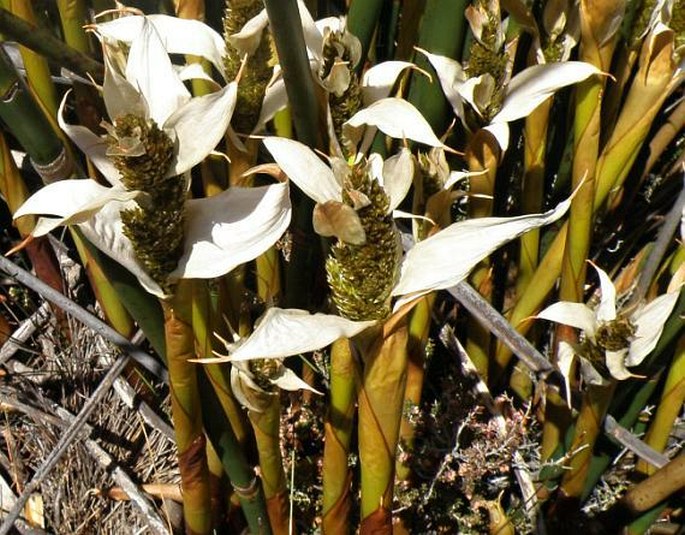 These images were taken in the Republic of South Africa, Cape Town, top of the Table Mountain (by Alena Vydrová and Vít Grulich, 25. 9. 2012).