Syn.: Chrysosplenium alternifolium var. iowense (Rydb.) B. Boivin
Family Saxifragaceae Juss.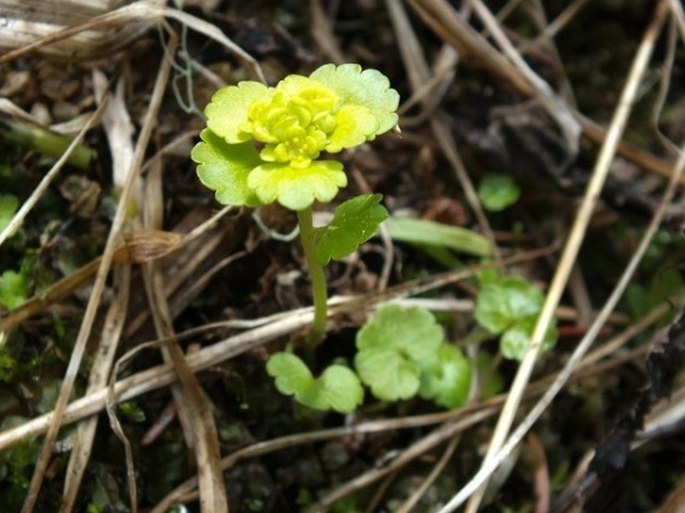 Distribution: North American species with limited distribution in both Canada and US, found in British Columbia, Alberta, Manitoba, Saskatchewan, Northwest Territories, Iowa and Minnesota. Iowa populations of Chrysosplenium iowense are widely disjunct from Canadian populations.
Ecology: Marshes, bogs, wet meadows, mossy streambanks, 500–1500 m. Blooms in June and July.
Description: Perennial herb, 3–15 cm tall, pale green to yellowish green, from white stolons. Stems erect, branched, glabrous. Leaves alternate, petiolate, fragile, ovate to reniform, 4–25 × 5–20 mm, margins scalloped or wavy. Inflorescence is a terminal 5–12-flowered cyme; bracts yellow, foliaceous, ovate to flabellate; flowers golden yellow, 1.5–5 mm across, campanulate, 4 sepals spreading, yellow or greenish yellow, petals absent, 2–8 stamens, 2 pistils. Fruit is a 2-lobed capsule, seeds light brown.
Threat and protection: Iowa and Minnesota list this species as threatened or endangered.
Note: Tiny seeds are dispersed by a "splash cup" means; raindrops flush them out of cup-shaped capsules.
These images were taken in Canada, Alberta, Benchlands, Forestry Trunk Road (June 2015).