Syn.: Peritoma lutea (Hook.) Raf.
Family Capparaceae Juss.
Distribution: A species of the western part of North America – it occurs from eastern California, Oregon and southeastern Washington to Montana, western Colorado, northwestern New Mexico, and the Mexican state of Baja California Norte.
Ecology: Grows on dry and sandy flats, in desert scrub, in elevations from 1100 to 2400 m. Flowers from May to August.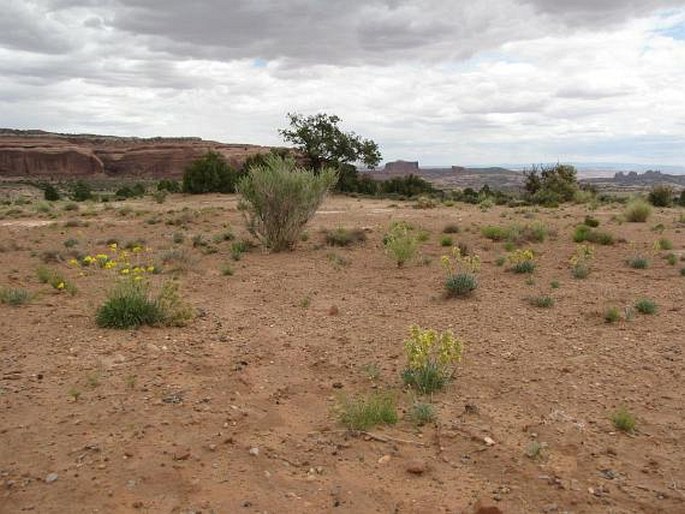 Description: Annual herb, 25–130 cm tall. Stem branched from upper nodes, glabrous, leaves alternate, petiolate, 1-palmate, leaflets generally (3–)5, 1.5–6 cm long, linear to elliptic. The inflorescence is a terminal raceme, 1–4 cm in flower, generally 5–40 cm in fruit, sepals persistent, 1.6–2.6 mm, lanceolate, minutely dentate, yellow; petals 5–8 mm, oblong to ovate, yellow; stamens 10–20 mm, yellow, anthers 1.9–2.6 mm. The fruit is a pod-like capsule, 15–40 mm long and 2–5 mm wide.
These images were taken in USA, Utah, Canyonlands National Park (by Alexandra Klaudisová, June 2009).