Syn.: Cladorhiza maculata Raf., Corallorhiza multiflora var. sulphurea Suksd.
Family: Orchidaceae Juss.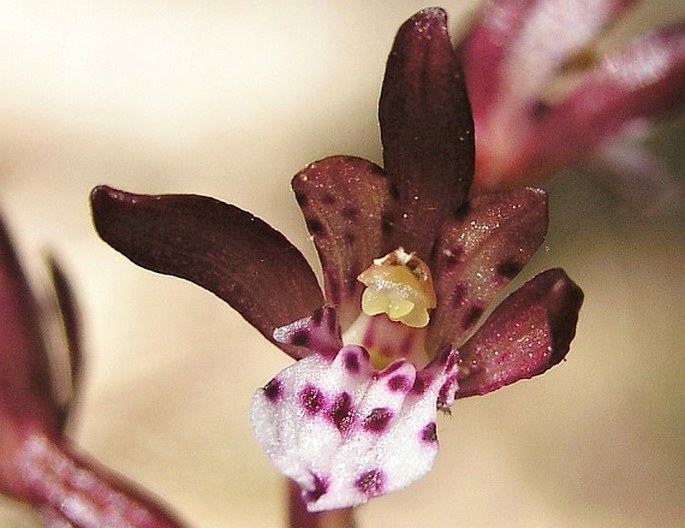 Distribution: Mainly North American species with a large area of distribution from British Columbia across Canada to Newfoundland, southward to California, absent in the central part of the continent and southeast. Also found in Mexico and Guatemala.
Ecology: Moist to drier woodlands, favouring rich humus soil, at elevations up to 1600 m. Blooms in June and July.
Description: Saprophytic, mycorrhizal herb, lacking chlorophyll, stems strongly thickened, purplish to yellowish, from coral-like rhizome, 10–65 cm tall. Leaves reduced to scale-like appendages. Inflorescence is a raceme of 5–40 flowers, dense to lax. Flowers 12–20 mm, perianth open, petals and sepals flexing forward, purplish, reddish, tan to yellow with lighter colouring in the centre, lanceolate, 3-veined; lip white, usually spotted purple, obovate to elliptic, 2 lateral lobes; column whitish to yellow, spotted purple, curved forward. Fruit is a capsule, pendulous, ellipsoid, up to 24 mm long.
Threat and protection: Several US states list this species as threatened or endangered and therefore, protected. As all orchid species it is protected by CITES agreement.
Note: Three varieties are recognized which are mostly sympatric. Several colour forms exist including a very pale form which is often confused with Corallorhiza trifida.
These images were taken in Canada, British Columbia, Vancouver Island (by Alena Vydrová and Vít Grulich, July 2007) and in Canada, British Columbia, Burton (by Karel Bergmann, July 2012).