Syn.: Corallorhiza maculata subsp. mertensiana (Bong.) Calder et R. L. Taylor, Corallorhiza purpurea L. O. Williams, Corallorhiza vancouveriana Finet, Neottia mertensiana (Bong.) Kuntze
Family: Orchidaceae Juss.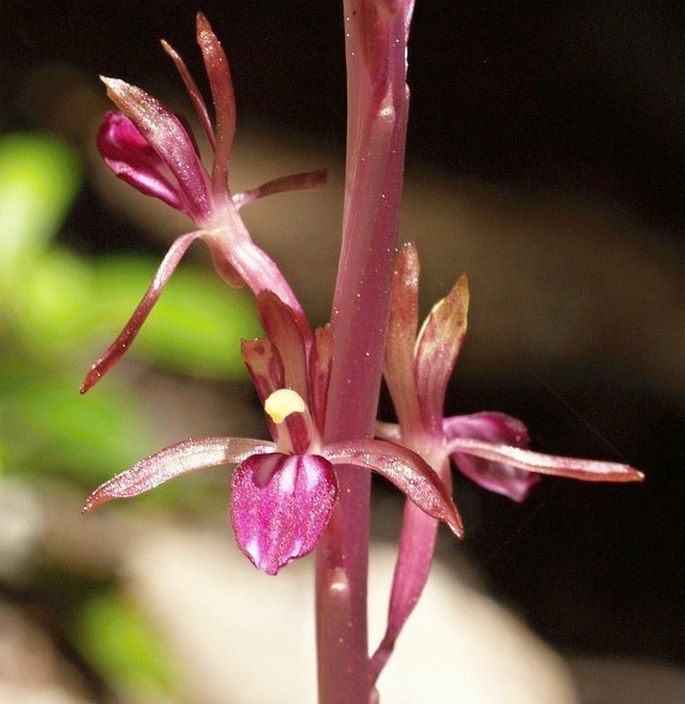 Distribution: North American species of the Pacific west from British Columbia to California, reaching Rocky Mountains of Alberta, Montana, Idaho, Wyoming and Nevada.
Ecology: Moist to dry, coniferous and mixed forests in quality humus, in elevations 0–2300 m. In Pacific Northwest it is sympatric with Corallorhiza maculata and occasionally integrates with it. Blooms from May to July.
Description: Saprophytic, mycorrhizal herb, lacking chlorophyll, forming large clumps, stems thickened at the base, yellowish to pink to reddish, 15–55 cm tall, from fleshy rhizomes. Leaves small and scale-like. Inflorescence is a many-flowered raceme, dense, up to 35 cm long; flowers with perianth open, pedicels about 10 mm long, sepals reddish purple, sometimes yellowish near base, or completely yellow, lanceolate, 3-veined, 6–12 mm; dorsal sepal arching over column, nearly adhering to it; lateral sepals strongly spreading; petals arching over column, converging with dorsal sepal, streaked with purple, lip red-purple, white, or white with purple streaks or spots, obovate, 5–9 mm long, with a tooth on each side, margins undulate; column erect, curved towards the lip, yellow with purplish veins; ovary 6–10 mm. Fruit is a capsule, ellipsoid, 10–25 mm.
Threat and protection: As all orchids this species is protected by state laws and internationally by CITES agreement.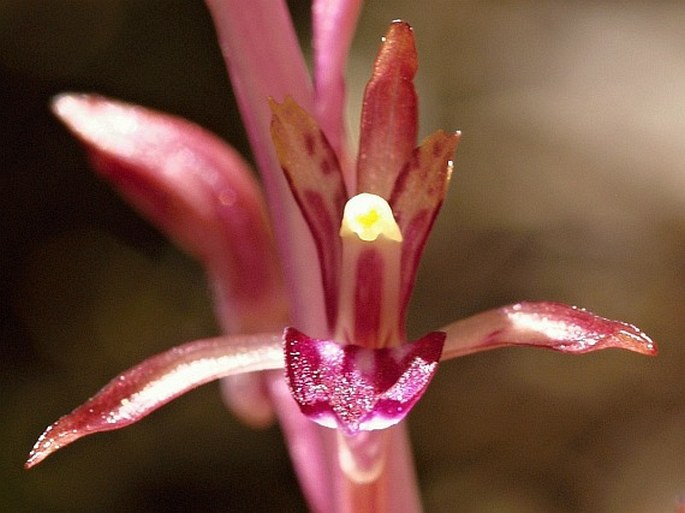 These images were taken in Canada, British Columbia, Vancouver Island, Strathcona Provincial Park, Philips Ridge (by Alena Vydrová and Vít Grulich, July 2007), and in USA, Washington, Olympic Peninsula, Mt. Townsend (by Philip Bergmann, July 2008).