Syn.: Neottia striata (Lindl.) Kuntze
Family: Orchidaceae Juss.
Distribution: North American orchid, radiating from western part of the continent, where it is found from Pacific coast to roughly to western end of South Dakota. It avoids only semi-desert and desert environment. Along Canadian US border it reaches Atlantic coast through Michigan and Ontario.
Ecology: Found in coniferous, deciduous and mixed forests, wetlands, banks of streams, from sea level to elevation of 2600 m. Blooms from early spring to early summer.

Description: Perennial saprophytic herb, lacking chlorophyll, 10–50 cm tall; stem is erect, stout, growing from rhizome (coral-like). Leaves are reduced to scale-like sheaths. Inflorescence is a raceme, 5–15 cm long, 10–35 flowered. Flowers yellowish to purplish, striped, 10–15 mm long, sepals and lateral petals 8–16 mm long, with 3 conspicuous, purple stripes, lip 8–12 mm long, white to pink, with 5 purple stripes, spur absent. Fruit is a capsule, elliptical, 11–30 mm long.
Threat and protection: Protected by CITES and declared endangered in states of Arizona and New York.
Note: This genus includes some 11 species found in temperate zones of North and central America. Only one species (Corallorhiza trifida) is circumpolar and therefore, found in the Old World.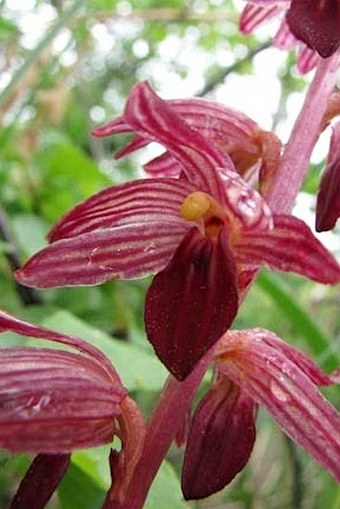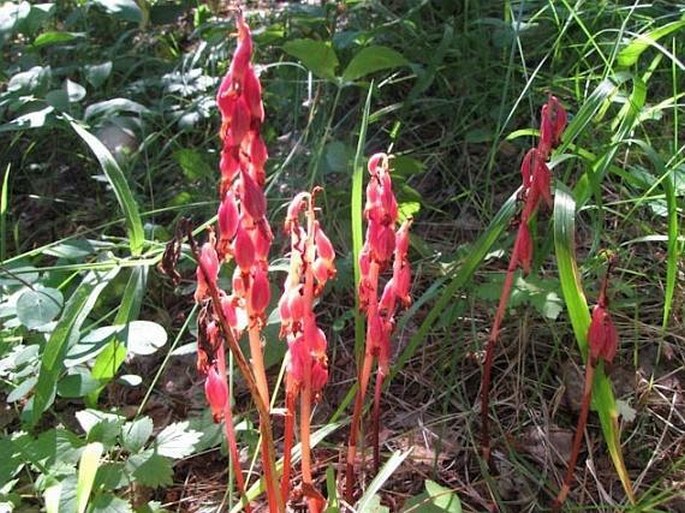 These images were taken in Canada, Alberta, Millarville (August 2012), Alberta, Bowmont Park (June 2012) and British Columbia, Fairmont Hot Springs (May 2012).