Family: Fabaceae Lindl.
Distribution: Species endemic to Madagascar, found in the southwestern and southern part of the island, in the provinces of Fianarantsoa and Toliara.
Ecology: It grows in dry deciduous forests and thickets, along the river valleys to the hills in the central part of the island, also in disturbed areas.
Description: Shrub, 1–4 m tall, much-branched, with puberulous branches. Leaves petiolate, 3-foliate, leaflets narrowly lanceolate to elliptic, 3.6–5(–8) cm long and 0.4–1.2(–2) cm wide, glabrous above, sparsely puberulous beneath; stipules very small. Racemes 8–many-flowered; bracts narrowly lanceolate, up to 4 mm long; calyx 1.2–1.6 cm long, sparsely puberulous, lobes triangular, 2–2.5 times as long as the tube; standard oval, yellow, flushed dull red, wings less than half as long as the keel, keel elliptic, 3–3.6 cm long, greenish to lemon-yellow. The fruit is a legume, 4.8–5.5 cm long, subcylindrical, glabrous, with 8–12 seeds.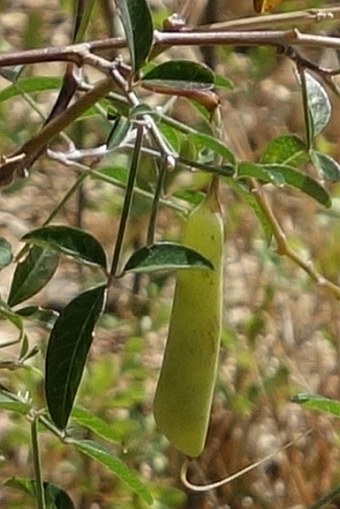 These images were taken in Madagascar, Isalo NP (by Ljuba Procházková, November 1, 2014).