Family: Primulaceae Vent.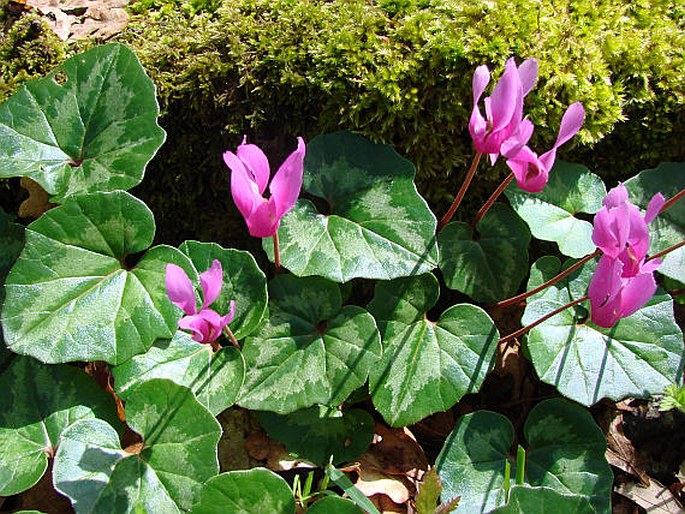 Distribution: The Mediterranean Basin – from Southern France and Algeria across Corsica, Sardinia, Italy, Croatia, Serbia to Greece. Cyclamen repandum has several subspecies (C. r. subsp. repandum, subsp. peloponnesiacum, subsp. rhodense).
Ecology: It grows in deciduous and Pine woodlands, in woodland margins. Blooms from March to May.
Description: A perennial herb with a subterranean globose tuber. The leaves are in a basal rosette, petiolate, ovate to cordate with a triangular white pattern on the green surface, reddish on the back of leaves, 4–10 cm long and 3–9 cm wide, margin dentate to lobate. The solitary flowers grow on long stalks, the reflexed petals are 15–25 mm long and 5–6 mm wide, purple-red. The fruit is a capsule.
Threat and protection: The Spring Sowbread is a protected plant by the Convention on International Trade in Endangered Species of Wild Fauna and Flora (CITES).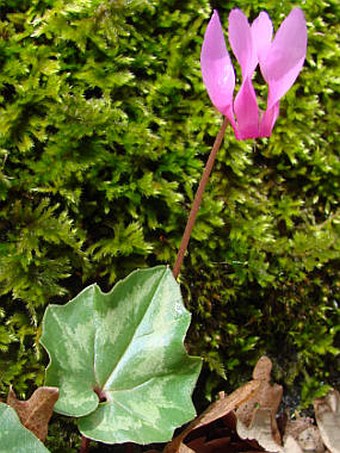 These images were taken in Italy, Gargano, San Marco in Lamis (April 18, 2008).