Syn.: Chlorocyperus eragrostis (Lam.) Rikli, Cyperus declinatus Moench, Cyperus eragrostis var. compactus (Desv.) Kük., Cyperus eragrostis f. latifrons Kük., Cyperus eragrostis f. rubromarginatus Kük., Cyperus eragrostis f. tener Kük., Cyperus gracilis Buchanan, nom. illeg., Cyperus lutescens Phil., nom. illeg., Cyperus luzulae Hochst. ex Steud., nom. illeg., Cyperus monandrus Roth, Cyperus ochrocephalus Steud., Cyperus prionotropis Steud., Cyperus serrulatus S. Watson, nom. illeg., Cyperus vegetus Willd.
Family: Cyperaceae Juss.
Distribution: Native to South America. Naturalized in Canada (British Columbia), U. S. (California, Louisiana, Mississippi, New Jersey, Oregon, Pennsylvania, South Carolina, Texas, Washington, and probably also Alabama), South Africa, Australia, New Zealand, China, Macaronesia (Azores, Madeira, Canary Islands), western and southwestern Europe, where it occurs mostly in areas with oceanic climate. It was also collected in Poland, Hungary, Italy, Montenegro, Turkey and recently it was recorded from the Czech republic and western Caucasus.
Ecology: It grows in muddy and disturbed sites along rivers, shores of lakes and ponds, wet terrain depressions, muddy roadsides, moist open fields, etc.
Description: A perennial, caespitose herb. The stem 40–60(–90) cm tall, 3-angled to terete, smooth. The leaf blade 25–50 cm × 5–8(–12) mm, flat or V-shaped, involucral bracts 4-8, unequal. The inflorescence is an anthela, rays 3–10, 2,5–5(–12) cm, raylets usually absent. The globose head of (20–)30–50(–70) spikelets at the apex of each ray, 2–4 cm in diameter. The spikelets oblong, 5–20 × 2,2–3 mm, compressed. The glumes (12–)20–30(–50), whitish to golden brown, ovate-deltoid, 2-2,3 × 1-1,4 mm, basally 2-keeled, laterally veinless. The stamen 1. The fruit is black to dark brown nutlet, broadly ellipsoid, 3-sided, at the apex with a 0,2-0,3 mm beak.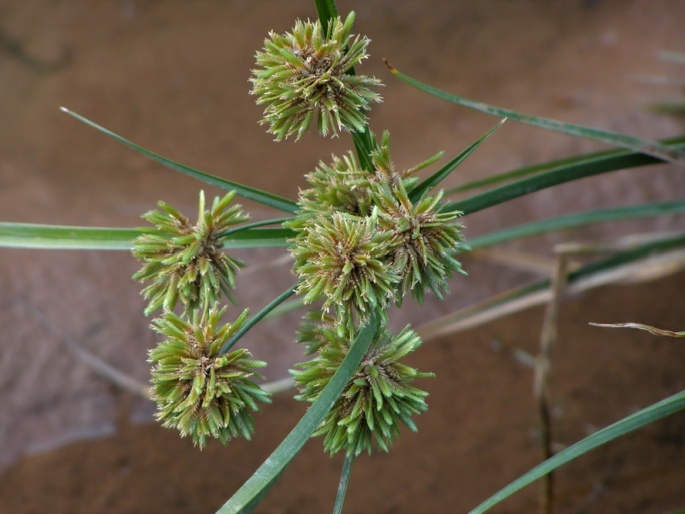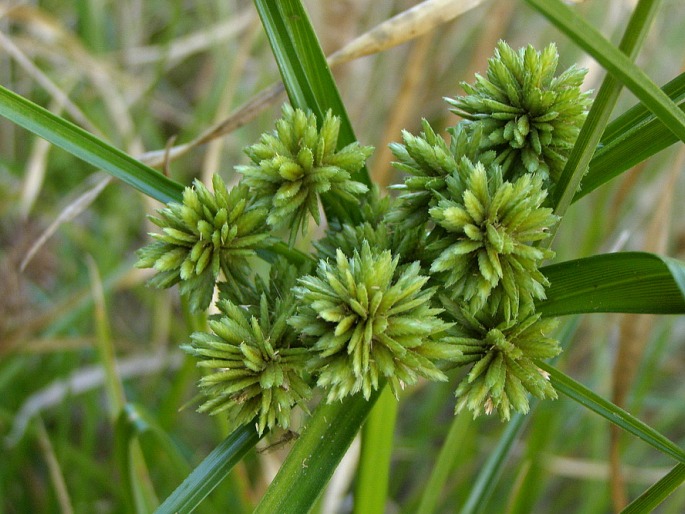 These images were taken in Spain, the Canary Islands, Gran Canaria, Barranco de Arguineguín (date: 16. 12. 2011).