Syn.: Cypripedium passerinum var. minganense Vict.
Family: Orchidaceae Juss.
Distribution: North American species found in northern part of the continent. Found in the region from Alaska and northern Saskatchewan to Lake Superior in Ontario and James Bay in Quebec. Through Rocky Mountains it reaches as far south as southern Montana.
Ecology: Found in coniferous forests, shrubbery, tundra, often in vicinity of water from sea coast to elevation of 2200 m. Blooms June and July.
Description: Perennial herb with erect stem, 12–38(–50) cm tall; 3–7 leaves, alternate, oval to lance-shaped, 5–19 × 1.5–6 cm. Flowers solitary but sometimes 2–3, white to pale pink, showy; sepals green, dorsal sepal oval, lateral sepals fused (connate), hidden under the lip; lateral petals white, oblong, 12–16 mm long; lip purple spotted, slipper or pouch-like, about 15 mm long. Fruit is an erect capsule.
Threat and protection: As all other orchids it is protected by international agreement CITES.
Notes: Passerinum means sparrow, the reference to the lip's resemblance to sparrow's egg (one of common names as well). Franklin's Lady's-slipper refers to the fact that it was discovered during John Franklin's second arctic expedition.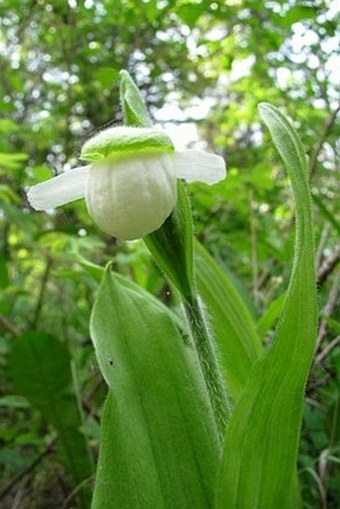 These images were taken in Canada, Alberta, Calgary, Edworthy Park (13. 7. 2013).