Family: Orchidaceae Juss.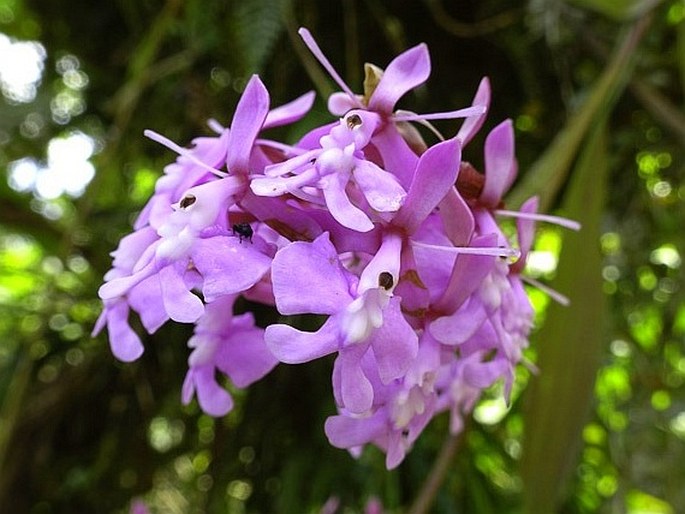 Distribution: Endemic species from Northwest of South America, described only recently (2001). So far it is known from the area northwest of the capital of Ecuador, Quito, around towns of Nenegal and Negalito in the province of Pichincha.
Ecology: Epiphytic, possibly even terrestrial, in wet montane forests on western slopes of Andes, at elevation 1600 to 2200 m. Blooming period during wet period of March to May.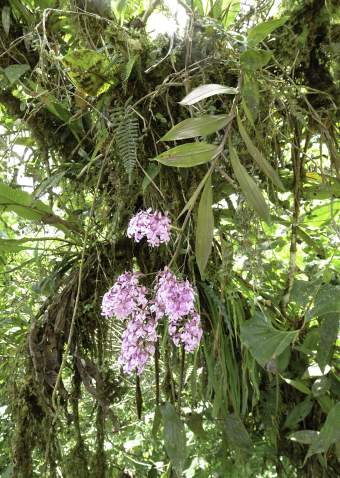 Description: Perennial plant with tufts of reed-like, leafy stems to 100 cm long. Leafs are linear to elliptical, 13–22 cm long and 2–4.3 cm wide, margins entire, apex acuminate. Terminal inflorescence with a loose panicle up to 40 cm long, with 2–3 apiculate bracts. Flowers are pink-violet or scarlet, bracts are shorter than ovaries, triangular, pointy: ovary apically significantly ventrally inflated; sepals widely spread, ligular to obligular, cca 11 mm long, 4 mm wide with 5 veins; petals linear, 0,8 mm wide, with single vein; lip with four lobes, deeply heart-shaped, up to 14 mm long, side lobes are hatchet-shaped, rounded, wavy, apical lobes widening; column straight, up to 8 mm long. Fruit is a capsule.
Threat and Protection: Even this species with lack of information is protected like all orchids by the Convention on International Trade in Endangered Species of Wild Fauna and Flora CITES.
Note: This species is considered within its genus in group Pseudepidendrum, for its characteristic growth in tufts, reed-like stems with acuminate leaves, terminal inflorescence, petals linear, and the lip usually 3lobed with apical lobe forked.
It is related to Epidendrum porphyreum (subgroup Porphyreum) which includes a list of similar species which are hard to identify.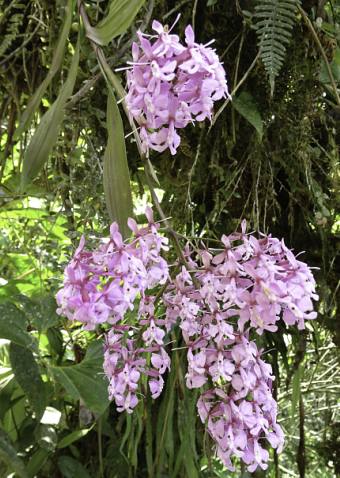 These images were taken by Karel Bergmann in Ecuador, prov. Pichincha, Mindo (April 7, 2019).