Syn.: Eriogonum flavum var. androsaceum (Benth.) M. E. Jones, Eriogonum flavum subsp. androsaceum (Benth.) S. Stokes
Family: Polygonaceae Juss.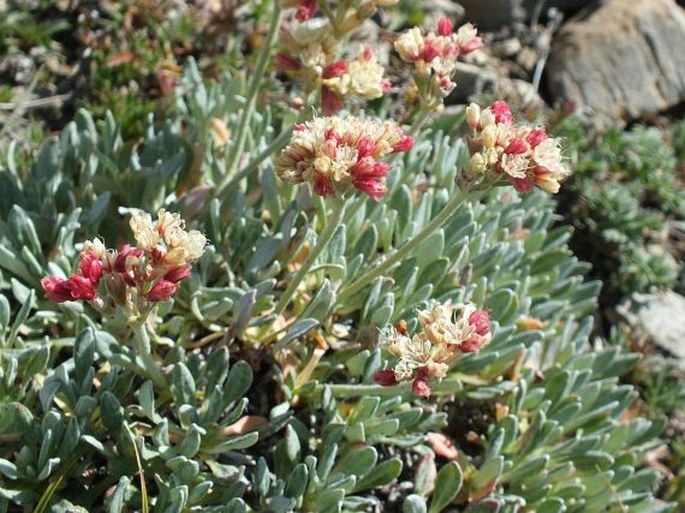 Distribution: Endemic to southern Alberta, British Columbia and northwestern Montana, in area of the Rocky Mountains.
Ecology: Above timber line, on rocky slopes, alpine meadows, usually in open areas exposed to sun and elements, also in open conifer forest, at higher elevations, from 1700 to 2500 m. Blooms in July and August.
Description: Perennial herb to subshrub, forming mats to 50 cm wide, from woody, spreading caudex, stems ascending to erect, soft hairy. Leaves are basal, sometimes in a rosette, on short, tomentose petioles, narrowly elliptic, 1–2 cm long, 0.2–0.5 cm wide, white or grayish hairy on lower surface, slightly hairy and green on top, entire margins, slightly rolling backward. Inflorescence capitate or umbellate, peduncle leafless, tomentose; bracts 5–7, under the flower head, leaf-like, lanceolate, to 1 cm long; flowers 3.5–6.5 mm long, 6 petal-like sepals, pale yellow, turning pink to reddish with age, narrowly oblong; 9 exserted stamens, 4–5 mm, 1 pistil. Fruit is an achene, 4–6 mm, triangular, brown.
Threat and protection: May be at risk in British Columbia.
Usage: This plant has been used by native tribes as remedy for arthritis and syphilis.
Pictures taken at Canada, Alberta, Blackrock Mountain (July 25, 2015).