Syn.: Eriogonum cupreum Gand., Eriogonum latum Small ex Rydb., Eriogonum polyanthum Benth., Eriogonum tolmieanum Hook.
Family: Polygonaceae Juss.
Distribution: North American species found in the west of the continent, from British Columbia southward to California and from Alberta to Colorado and Arizona, mostly along the Rocky mountains. Widespread and extremely variable with almost 50 varieties recognized and many integrades.
Ecology: From dry grasslands to alpine ridges, rocky slopes, fast draining substrate up to elevation of 3000 m. Blooms in June and July.
Description: Perennial herb to subshrub, flowering stem 10–30 cm tall, spreading to erect, branches short, cushion forming, from woody rootstock. Leaves in loose, compact basal rosettes, petioles to 4 cm long, tomentose or glabrous, blades oblong to elliptic to oval, 3–5 × 1.5–2.5 cm, upper surface green, lower densely lanate to tomentose, margins smooth, rarely wavy. Inflorescence umbellate or compound umbellate, whorl of bracts below umbel, 3 to several; flowers 2–10 mm long, perianth various shades of white, yellow or red, spent flowers usually pinkish, crepe paper-like, 6 petal-like sepals, 9 long-filament stamens, 1 pistil. Fruit is a triangular achene, brown, 2–7 mm, smooth with somewhat hairy beak.
Use: Native tribes used the rootstock to make decoction to remedy cold and used as disinfectant and emetic.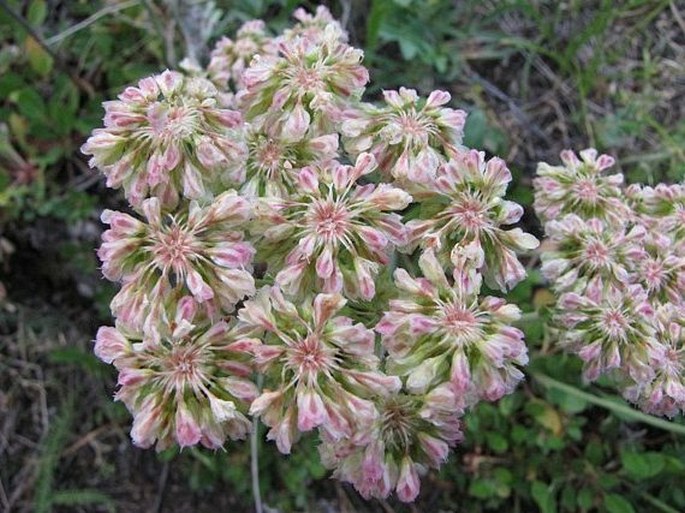 These images were taken in Canada, British Columbia, Burton and Idaho Peak (July 2011).