Syn.: Spiraea filipendula L., Ulmaria filipendula (L.) Hill, Filipendula filipendula (L.) Voss
Family: Rosaceae Juss.
Distribution: Almost all of Europe (excluding the Mediterranean islands and the farthest north), northwest Africa, Asia Minor, Caucasus, Siberia (as far east as Altay). Introduced in Northern America, Azores and Russian Primorye.
Ecology: It grows on dry grasslands, sunny slopes and meadows, at margins of forests, woodland clearings and roadsides, mostly on limestone or siliceous bedrock. It blooms from May to July.
Description: Perennial, rhizomatous herb, 30–80(–100) cm tall; stem erect, usually simple or branched upward; leaves pinnate, basal leaves with 8–25 pairs of leaflets, large leaflets 0,5–2 cm, oblong in outline, pinnatifid, often toothed. Inflorescence 3–10 cm long, cymose panicle, wider than long, flowers 6-merous, petals 5–9 mm, white to cream. Fruit a head of achenes, achene 3–4 mm long, pubescent.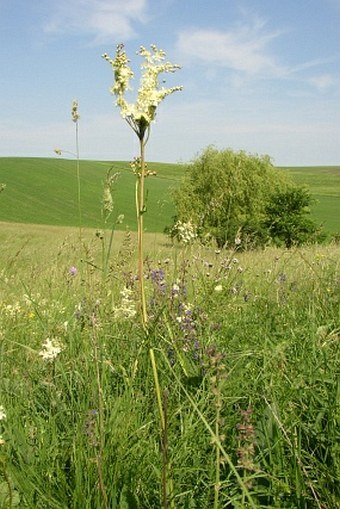 These images were taken in Czechia, Moravia, Hustopečská pahorkatina, Hovoranské louky (June 2005).