Syn.: Brossaea procumbens (L.) Kuntze, Gaultheria humilis Salisb., Gautiera procumbens (L.) Torr.
Family: Ericaceae Juss.
Distribution: North American species found in the eastern part of the continent from Manitoba south through Minnesota, Missouri, Tennessee and Alabama. Absent in Florida.
Ecology: Mixed woodlands, moist forests, montane heaths and bogs, but also in disturbed areas, at elevations 0–1500 m. Blooms from June to September.
Description: Subshrub, creeping, not mat-forming, stoloniferous. Stems decumbent, branches ascending, 5–20 cm. Leaves alternate, obovate to oval or orbiculate, 1.5–4.5 cm long, base cuneate, margins serrate, apex acute or obtuse, bright green on top, pale green on bottom. Inflorescences axillary, 1–3 flowers per node, nodding; reddish bracts not exceeding calyx, pedicels pinkish, 1–3 mm, lanate. Flowers pentamerous, sepals 2.5–3.5 mm, white, cordate, fringed margins; petals 8–10 mm, white, almost completely fused to form an urn, constricted at mouth, reflexed tips; stamens and pistil contained within corolla. The fruit is red to reddish violet, 6–9 mm wide.
Threat and Protection: Although common or abundant in most of its range, Gaultheria procumbens has been listed as endangered in Illinois.
Note: Wintergreen in its name alludes to classic wintergreen flavour. Native tribes used the berries as a cold remedy and analgesic and to prepare tasty tea (teaberry).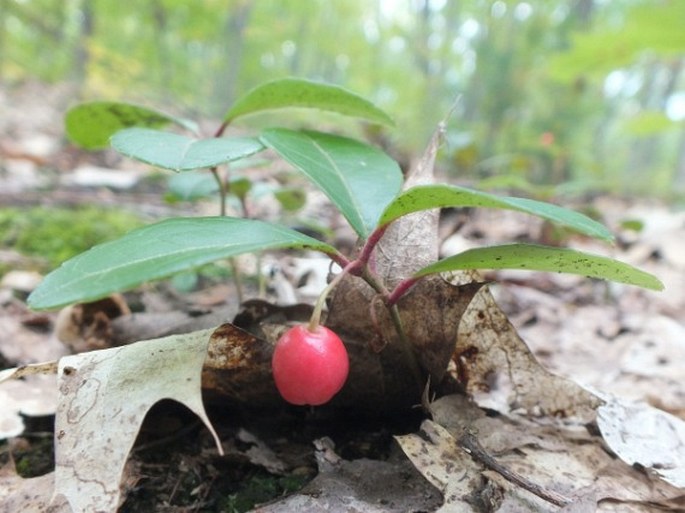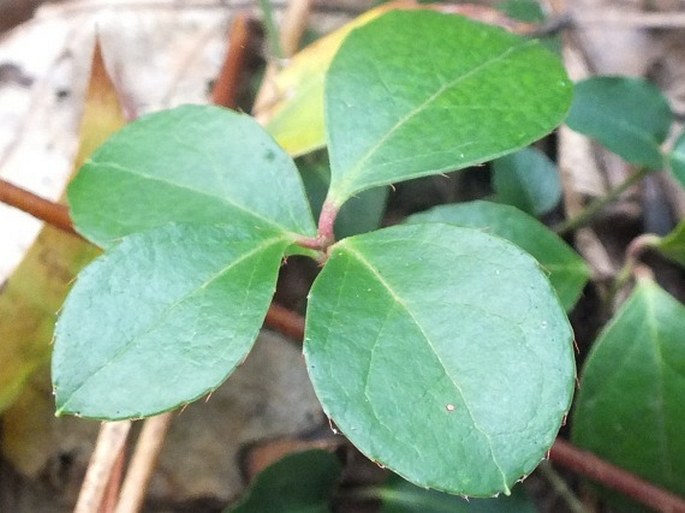 These images were taken in USA, Massachusetts, Worcester (October 4, 2015).