Syn.: Anthopogon elegans (A. Nelson) Rydb., Anthopogon thermalis (Kuntze) Rydb., Gentiana detonsa var. unicaulis (A. Nelson) C. L. Hitchc., Gentiana elegans A. Nelson, Gentiana moseleyi A. Nelson, Gentiana thermalis Kuntze, Gentianella detonsa subsp. elegans (A. Nelson) J. M. Gillett, Gentianopsis detonsa var. elegans (A. Nelson) N. H. Holmgren, Gentianopsis elegans (A. Nelson) Ma
Family: Gentianaceae Juss.
Distribution: North American species found in Rocky Mountains (as the common name suggests), from south of Montana to New Mexico and from west Colorado to Utah.
Ecology: Grows in subalpine wet meadows and wetlands, close to thermal springs and geysers. Blooms in July and August.
Description: Annual herb, 10–35 cm tall, erect, hairless. Stem simple or branched from base, basal leaves oblong, 1.5–4 cm long, stem leaves opposite in 2–4 pairs, linear to lanceolate. Flowers solitary, terminal, tetramerous, calyx 15–25 mm long, corolla 35–55 mm long, dark blue to purple, white inside, petals with fringed tips. Fruit is a capsule, 3–4 cm long.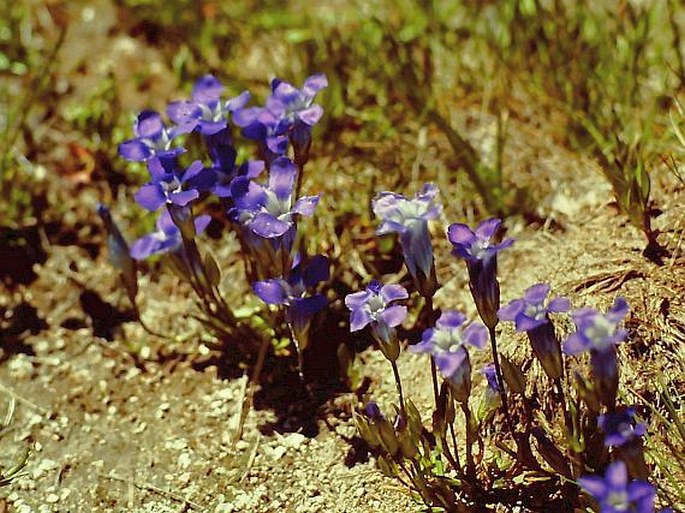 These images were taken in USA, Wyoming, Yellowstone National Park (July 1983).