Syn.: Aurelia squarrosa Cass. ex Steud., Donia squarrosa Pursh, Grindelia aphanactis Rydberg, Grindelia nuda Alph. Wood, Grindelia nuda var. aphanactis (Rydberg) G. L. Nesom, Grindelia serrulata Rydberg, Grindelia squarrosa var. nuda (Alph. Wood) A. Gray, Grindelia squarrosa var. serrulata (Rydberg) Steyermark
Family: Asteraceae Bercht. et J. Presl
Distribution: North American species originating in western part of the continent, nowadays found from Northwest Territories to southern borders of US and Mexican state of Chihuahua. Absent in northern maritime provinces of Canada and state of Maine and extreme south east of US. Three varieties are recognized in its range. Naturalized in Europe and Asia.
Ecology: Dry, open sites, plains to foothills, disturbed areas, along roads and trails, up to 2500 m. Blooms from June to September.
Description: Biennial to short-lived perennial herb, 20–60 cm tall, from taproot. Stems erect, branched at top, aromatic, hairless. Leaves alternate, oblong to lanceolate, 1–4 cm long, 1–7 mm wide, surface dotted with minute glands, sessile, margins smooth to wavy. Inflorescence consists of many flower heads borne in a flat-topped cluster (corymb), flowers 2–3 cm across; involucre cup-shaped, with several overlapping rows of linear, pointed, recurved bracts, very sticky (hence the common name); 25–40 ray florets, yellow; numerous disc florets, yellow. Fruit is an achene, densely white-hairy, pappus long, barbed with hair-like bristles.
Note: Native tribes used this plant for medicinal purposes and applied the sticky substance to cuts and wounds. Sticky flower heads can be chewed as a substitute for chewing gum.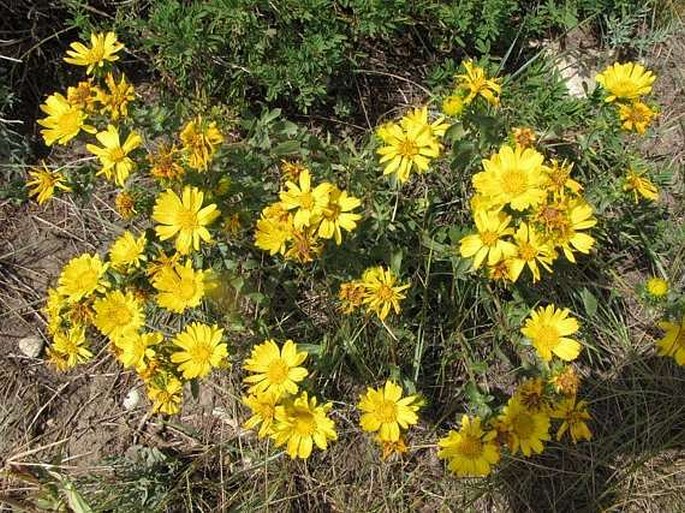 These images were taken in Canada, Alberta, Calgary, Confluence Park (August 2013).