Syn.: Gutierrezia diversifolia Greene, Gutierrezia lepidota Greene, Gutierrezia linearifolia Lag., Gutierrezia linearis Rydb., Gutierrezia linoides Greene, Gutierrezia longipappa S. F. Blake, Gutierrezia pomariensis (S. L. Welsh) S. L. Welsh, Gutierrezia sarothrae var. pomariensis S. L. Welsh, Gutierrezia tenuis Greene, Solidago sarothrae Pursh, Xanthocephalum sarothrae (Pursh) Shinners, Xanthocephalum sarothrae var. pomariense (S. L. Welsh) S. L. Welsh, Xanthocephalum tenue (Greene) Shinners
Family: Asteraceae Bercht. et J. Presl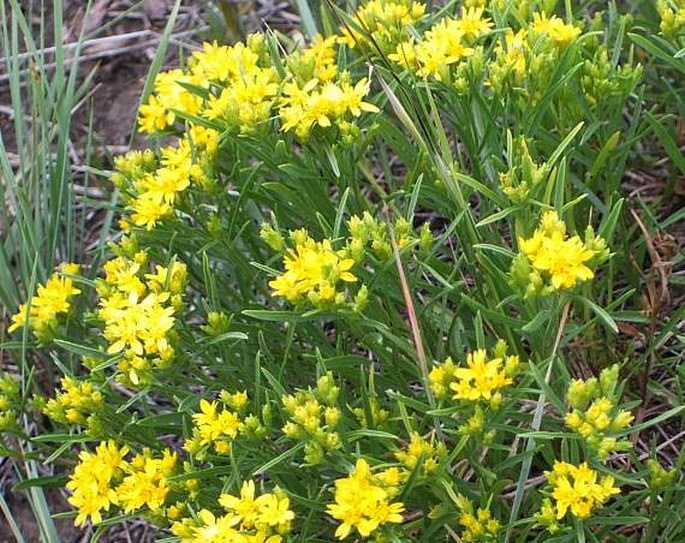 Distribution: Species of the west of North America, found in western Canada (Alberta, Saskatchewan, Manitoba) and going as far south as central Mexico (Baja California, Baja California Sur, Chihuahua, Coahuila, Durango, Nuevo León, San Luis Potosí, Sonora, Zacatecas). It has spread to state of New York.
Ecology: Grows in dry areas, prairie, grasslands and rocky areas, in elevations from 50 m to 2900 m. Blooms from July to September.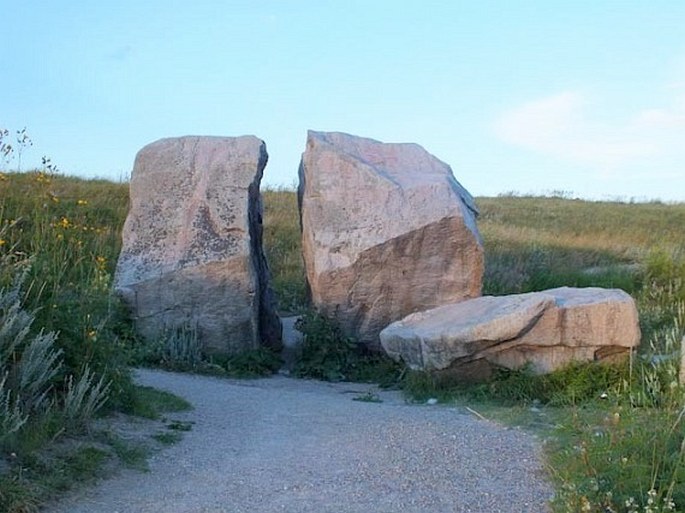 Description: Subshrub, 10–60(–100) cm tall. Stem bases are woody, branched, green to brown. Leaves are alternate, linear to lanceolate, 5–40(–60) mm long, 1–3 mm wide, margins smooth, 1–3 veined, lower leaves drying during flowering period, flower heads borne in flat-topped cluster, numerous, small, 3 mm across; ray florets (2–)3–8, corollas 3–5,5 mm, yellow; disc florets (2–)3–9, yellow; bracts leathery with sticky hairs. Fruit is a dry achene with scaly pappus.
Usage: Early settlers used this plant for production of brooms and collected the flowers and roots for medicinal use against colds. They used even the ashes for headaches and as antidote for snakebites.
Note: Cattle can be poisoned when this plant is grazed in larger quantities.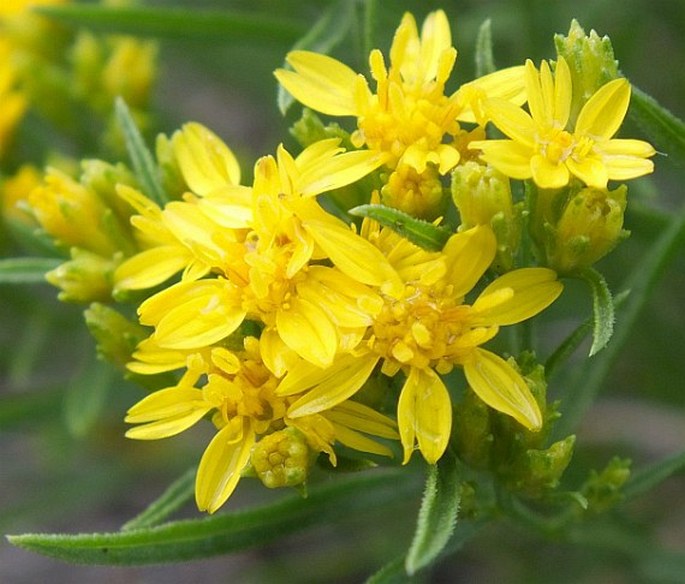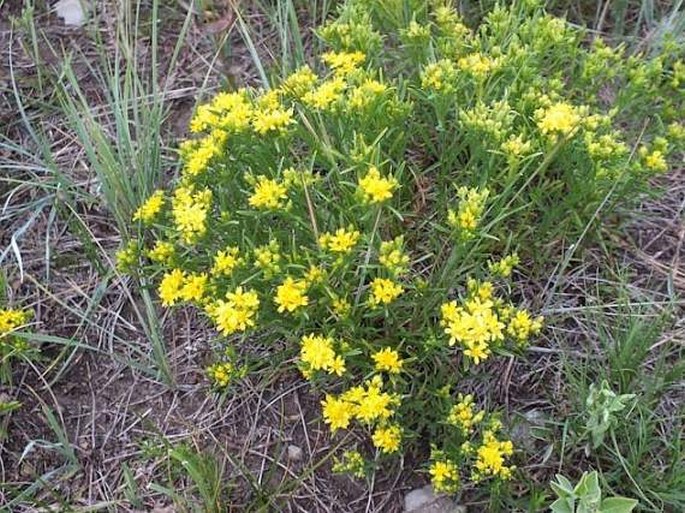 These images were taken in Canada, Alberta, Calgary, Confluence Park (5. 8. 2013).