Syn.: Orchis tridactylites (Lindl.) Webb et Berthel.
Family: Orchidaceae Juss.
Distribution: An endemic species of the Canary Islands. It occurs mostly in western part of the archipelago, rarely grows in Lanzarote and it does not occur in Fuerteventura. The pantropic genus Habenaria comprises approximately 600 species.
Ecology: This species can be found in zone influenced by trade winds, which permanently brings clouds and moisture. It grows in shallow, acid soils on rocks, in rock crevices and also in old stone walls of the terraced fields, in places with enough of light, which are not exposed to direct sun (mostly northern exposition), up to 1400 m above sea level. Flowers from November to February. Major pollinators of this orchid are night butterflies.
Description: A perennial, glabrous, 10–30(–60) cm tall herb. The bulbs 2(–3), the leaves oblong-lanceolate (1.5–)5–18 × (1–)1.5–7 cm large. The inflorescence is lax, cylindrical, with 2–12(–24) flowers, the bracts up to half of the ovary. The flowers green-yellow, the lateral tepals 5–7 × 1.5–2 large, the helmet 4–6 mm, the labellum three-lobed, 7–9 mm long. The fruit is a capsule.
Threat and Protection: The species is protected by CITES. Many localities are endangered by expansion of human activities – construction, eutrophication of environment.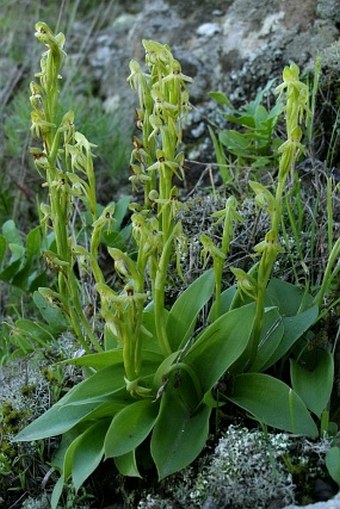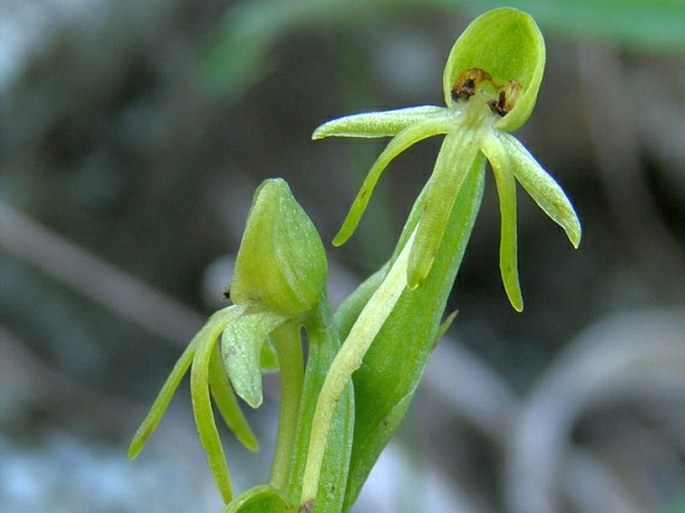 These images were taken in Spain, the Canary Islands, Gran Canaria, Santa Brígida (December 21, 2011).