Syn.: Asclepias stellata Burm. ex Decne., Centrostemma cyrtoceras Meisn., Centrostemma lindleyanum Decne., Centrostemma multiflorum (Blume) Decne., Centrostemma platypetalum Merr., Cyrtoceras coriaceum Heynh., Cyrtoceras floribundum Maund, Cyrtoceras lindleyanum Miq., Cyrtoceras multiflorum Heynh., Cyrtoceras reflexum Benn.
Family: Apocynaceae Juss.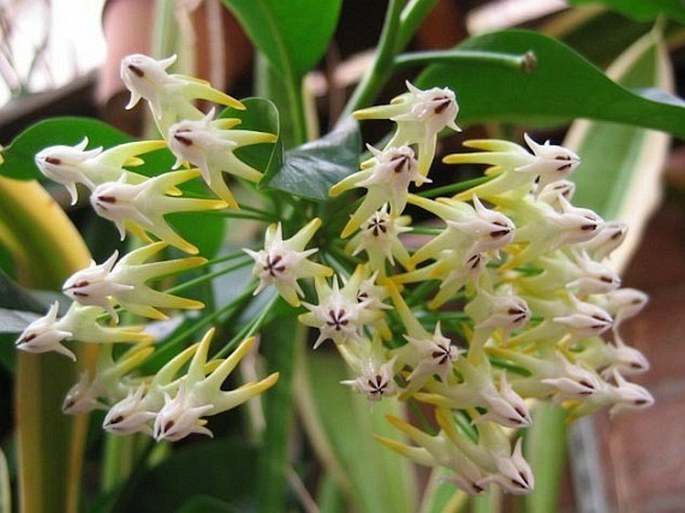 Distribution: Southern China (Guangxi, Yunnan), Indonesia, Laos, Burma, Malaysia, Thailand, Vietnam, Philippines.
Ecology: Open forests, shrubby areas, terrestrial or lithophytic, 500–1200 m. Blooms May to July.
Description: Perennial shrub, stems erect to decumbent, to 2.5 m tall, grayish, with leaf scars. Leaves opposite, oblong-lanceolate, 8–18 cm long, 2–6 cm wide, glabrous, petiole 1–2 cm long. Inflorescence subterminal or terminal, hemispherical, many-flowered umbelloid cyme, peduncle stout, 1.5–3 cm long; flower pedicels 3.5–7 cm long; sepals ovate, about 2.5 × 1.7 mm; numerous nectar glands; corolla yellowish white with orangey tips, 1.6–1.8 cm, strongly reflexed from base; staminal corona raised on stalk, ivory white, narrowly lanceolate, 8–9 mm, outer tips extended into sharp spurs; inner tips acuminate, higher than stigma. Fruit is a follicle, 12–18 cm, linear-lanceolate; seeds ovate, 4 × 2 mm.
Use: This plant is grown for the spectacular flowers and although these flowers are not fragrant as in other Hoya species, they produce copious amounts of sticky, sugary nectar, attraction for moths and bats as pollinators. I lick it, too.
Note: As noticed from synonymy, this is a confusing species due to the shape of the flowers and therefore, it had been included previously in several genera. As there has been no generic revision ever produced, it is still in the genus Hoya.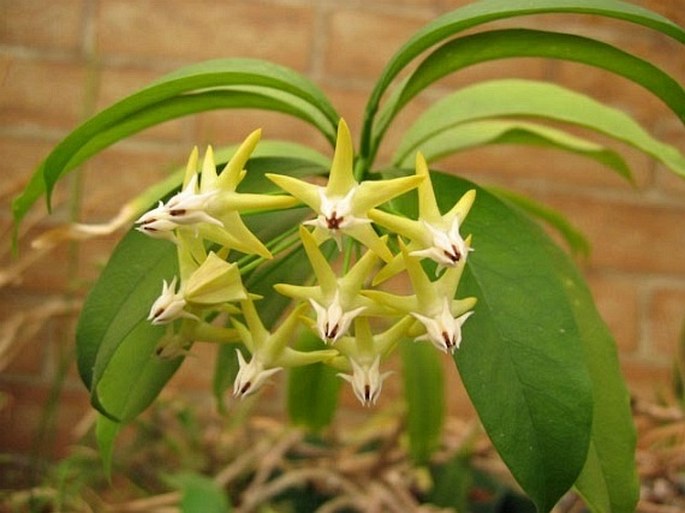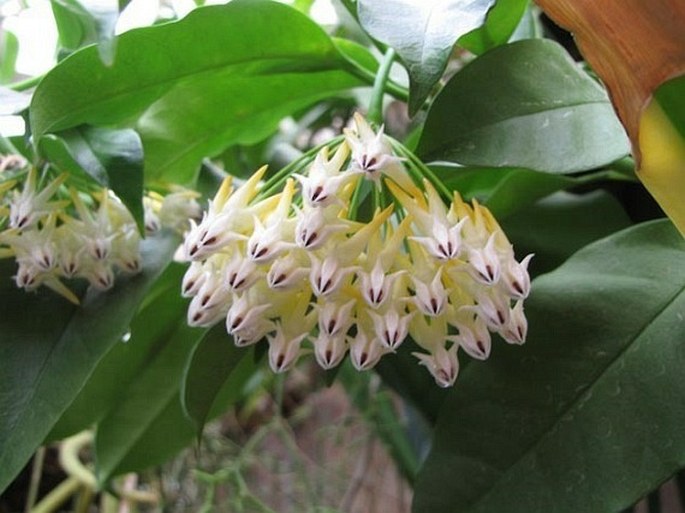 These images were taken in culture.