Syn.: Cereus guatemalensis (Eichler) A. Berger, Cereus tricostatus Rol.-Goss., Cereus trigonus var. guatemalensis Eichler, Cereus undatus Pfeiff., Cereus undulatus D. Dietr., Hylocereus guatemalensis (Eichlam) Britton et Rose, Hylocereus tricostatus (Gosselin) Britton et Rose
Family: Cactaceae Juss.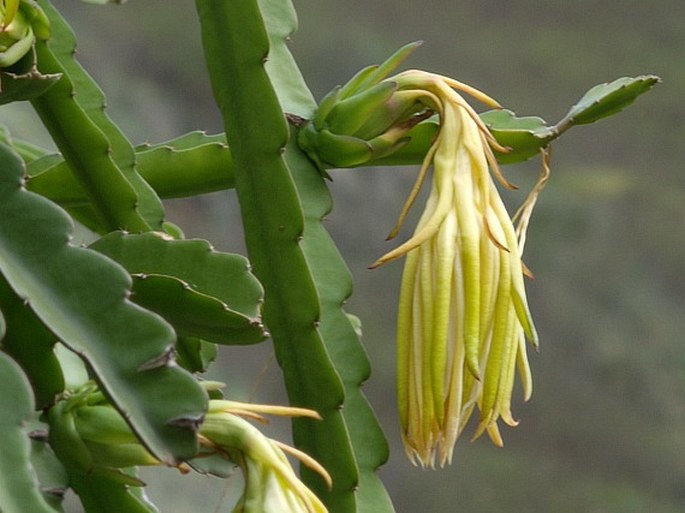 Distribution: Native in tropical America, from Mexico to Colombia. Presently in culture as an ornamental and commercially for its fruit in most tropical countries, sometimes naturalized (South Africa, Cape Verde, Reunion, eastern Australia, New Caledonia, Florida, Brazil etc.).
Ecology: In native environment it is usually an epiphyte, climbing or sprawling on the trees or on the rocks. Escaped plants from culture cover fences, climb telephone poles and easily adapt to anything.
Description: Stem succulent, climbing or sprawling, up to 10 m in length, growth sections up to 1 m long, 7–12 cm in diameter, usually triangular in cross section (3 ribs), margins usually strongly undulate, more or less horny with age, dark green, areoles 3–4 cm apart, spines 1–3, 2–4 mm long. Single flowers from mature sections, 25–30 cm long, spreading to 20 cm, nocturnal, highly aromatic, outer perianth segments yellowish green, reflexed; inner perianth white, erect, broad, oblanceolate, entire, with apiculate tips; filaments cream coloured; stigma lobes up to 24 in number, cream coloured. Fruit is a large berry, oblong, 6–12 × 4–9 cm, red, with leaf-like scales, nearly smooth when mature, with numerous black seeds in white pulp which is edible.
Threat and protection: This species is protected by CITES agreement.
Use: The pitahaya or dragon fruit is an important commercial crop, mostly grown in Vietnam for American export.
These images were taken by Karel Bergmann in Mexico, Jalisco, south of Puerto Vallarta (2008), by Vít Grulich in Cape Verde, Santo Antăo, Valle do Paúl (November 3, 2006) and by Naděžda Gutzerová (fruit: December 2016).