Syn.: Choretis galvestonensis Herbert, Hymenocallis galvestonensis (Herbert) Baker, H. galvestonensis subsp. angustifolia Traub, Pancratium liriosme Raf.
Family: Amaryllidaceae Jaume St.-Hil.
Distribution: Species of extreme south of US with main distribution in the state of Louisiana, also found in small parts of neighbouring states of Texas, Oklahoma, Mississippi, Arkansas and Alabama.
Ecology: Marshes, swamps, ponds, ditches and alluvial woods at low elevations to 200 m. Blooms in early spring.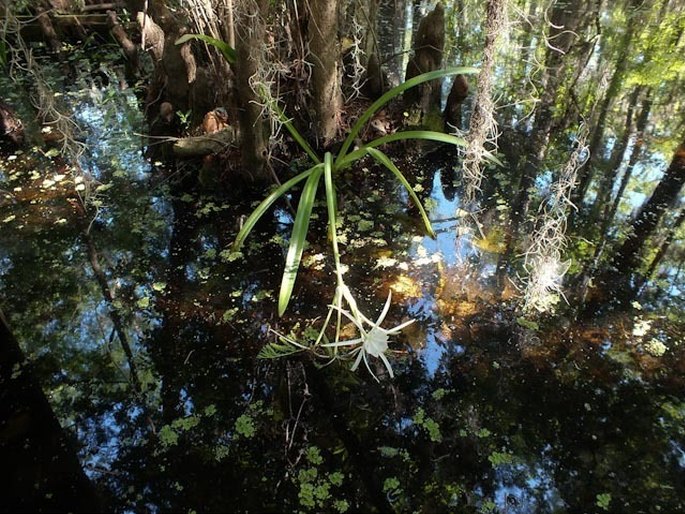 Description: Bulbous plant, bulb subglobose to ovoid, 4.5–6 × 5–6 cm, basal plate 2–3 cm, neck 3–5 cm, cover layer greyish brown. Leaves deciduous, 5–8, suberect, 30–85 cm long, 2–3.5 cm wide, fleshy, leather-like, liguliform to narrowly lanceolate, not widened above the middle, channeled, apex acute. Peduncle 65–90 cm, 2-edged, glaucous, scape bracts 2, enclosing buds, floral bracts 3–4 cm long, 5–10 mm wide. Flowers in umbel of 3–12, opening sequentially, fragrant; pedicel green, 5–10 cm; tepals ascending from base of corona, white, linear, 6–9 cm long, 4–8 mm wide; corona white with yellowish throat, widely campanulate, 4–5 cm across, margins between filaments wavy to coarsely dentate; anthers contorted, 1–2.3 cm, pollen yellow; style green, 10–17 cm long, arcing upward. Fruit is a capsule, subglobose, 2 cm; seeds 2 × 1.5 cm.
Possible confusion: Hymenocallis occidentalis looks very similar, however, distinctive features are the oblanceolate, glaucous leaves, lanceolate bracts with long-acuminate apex, long, slender perianth tube and funnelform corona with distinctly dentate margin between the free portions of filaments. Blooms from July to September.
These images were taken in USA, Louisiana, Jean Lafitte National Park (May 2014).