Syn.: Inula thomsonii C. B. Clarke
Family: Asteraceae Bercht. et J. Presl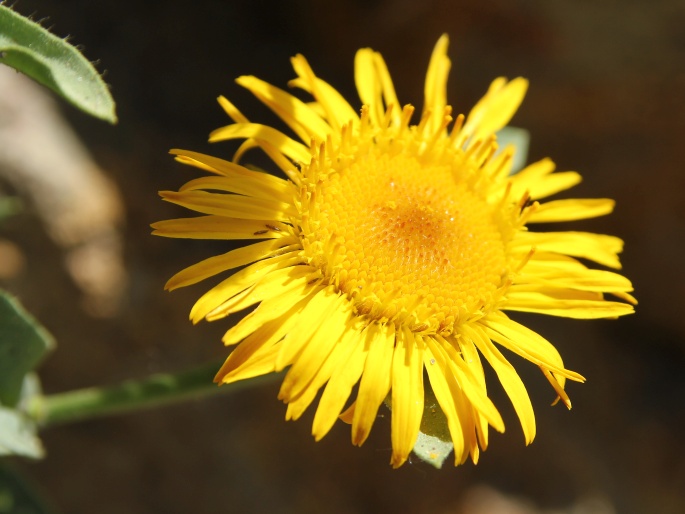 Distribution: Western Himalayan species – from eastern Afghanistan and Pakistan to northern India and western Tibet.
Ecology: It grows in rock crevices, dry slopes and stony places, at elevations from 2000 to 4500 m. Blooms from June to August.
Description: Perennial herb, with a woody rootstock. Many stems arising from stout rootstock, 15–30 cm tall, glandular and pilose. Leaves sessile, elliptic to lanceolate, 3–7 cm long and 2–2.5(–4) cm wide, pilose and glandular, margin entire to obscurely dentate, apex acute to obtuse. Capitula usually solitary, terminal, 1.5–3 cm in diam.; involucre semiglobose, phyllaries 4- or 5-seriate, regularly imbricate, outermost herbaceous, leaflike, lanceolate to oblanceolate, 4–6 × 2–3 mm, inner membranous, linear, erect. Ray florets shorter than the width of the disk, 1–2 cm, disk florets tubular, 6–7 mm. Achenes 2–3 mm, with pappus.
These images were taken in India, Ladakh, Hemis (by Jindřich Houska, August 1, 2013).