Syn.: Eremiris lactea (Pall.) Rodion.
Family: Iridaceae Juss.
Distribution Asian species – from eastern Kazakhstan and Afghanistan through north India, west and north of China, Mongolia and Siberia to the South Korea and the Russian Primorye.
Ecology: It grows on grassy slopes and hillsides, at elevations of 600–3800 m asl. It blooms from April to June.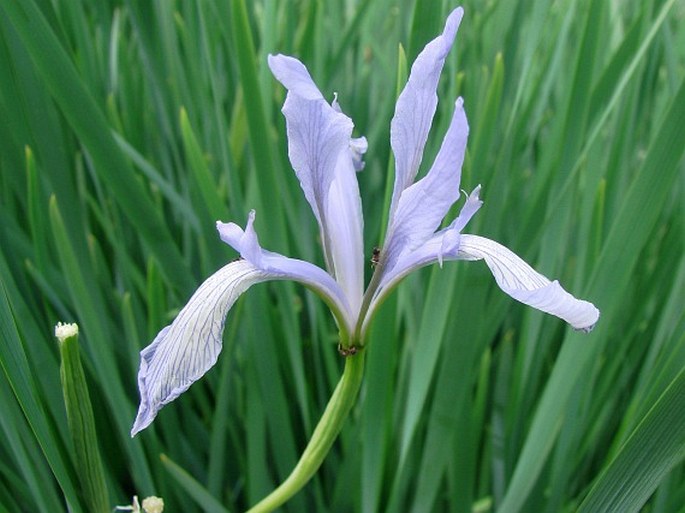 Description: Perennial herb with a creeping rhizome. Leaves linear, 14–70 cm × 3–7 mm, entire, glaucous. Flowers 2–4, 5–7.5 cm in diameter, pale violet or partly milky white or yellow, spathes lanceolate, green, 4.5–10 × 0.8–1.6 cm, outer perianth segments oblanceolate, inner segments erect, narrowly oblanceolate. The capsules are narrowly cylindrical, 6.5–7.5 × 1–1.4 cm, 6-ribbed.
Use: The rhizomes of this species are used in traditional oriental medicine, the leaves are used as fodder for domestic animals and for making baskets and mats.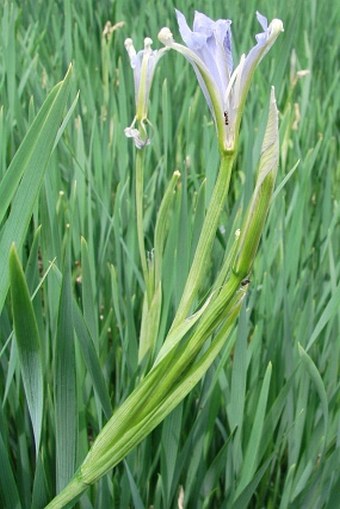 These images were taken in Czechia, Bohemia, Průhonice, Chotobuz Botanical Garden (June 2, 2012).