Syn.: Adyseton maritimum (L.) Link, Alyssum maritimum (L.) Lam., Allysum benthamii hort., Clypea maritima L., Draba maritima (L.) Lam., Glyce maritima (L.) Lindl., Koniga maritima (L.) R. Br., Lobularia strigulosa (Kunze) Willk., Octadenia maritima (L.) Fisch. et C. A. Mey.
Family: Brassicaceae Burnett
Distribution: Native in the Mediterranean region, and probably in the Canary Islands. It was introduced to many countries (e.g. the Azores, Central Europe, North and South America, southern Australia, New Zealand, New Caledonia, etc.).
Ecology: It grows on sandy and rocky seacoast. The secondary habitats are mainly margins of gardens, human-altered habitats, waste dumps. It blooms from April to October.
Description: Perennial herb, 10–30(–40) cm tall, greyish-white. Stem decumbent to erect, usually branched at the base. Leaves sessile, linear-lanceolate, up to 4 cm long. Flowers in a raceme, small, fragrant, sepals patent, petals 2.5–4 mm, white, reddish or purple. The fruit is an obovate or suborbicular silicula, 2–4 mm long.
Use: It is widely cultivated as an ornamental plant, many cultivars are on the market.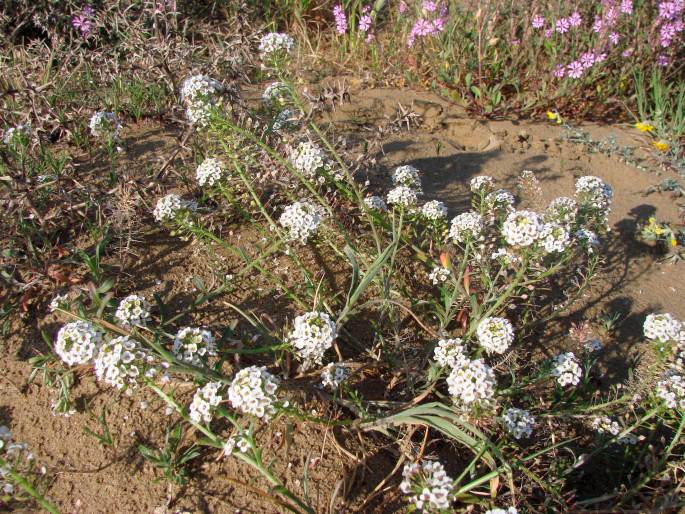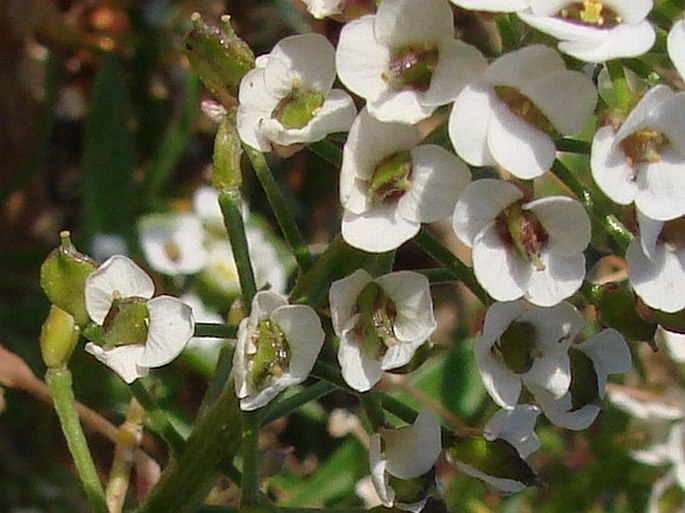 These images were taken in Italy, Gargano, Vieste (April 16, 2008).