Syn.: Magnolia angustifolia Millais, Magnolia elliptica (W. T. Aiton) Link, Magnolia exoniensis Millais, Magnolia ferruginea W. Watson, Magnolia foetida (L.) Sarg., Magnolia lacunosa Raf., Magnolia lanceolata (Aiton) Link, Magnolia longifolia Sweet, Magnolia maxima Lodd. ex G. Don, Magnolia virginiana var. foetida L.
Family: Magnoliaceae Juss.
Distribution: North American species found from North Caroline along the Atlantic coast to Florida and along Gulf of Mexico coast to Texas.
Ecology: Wet woods, ravine slopes, coastal plains, sandy woods, along streams, lowland to 120 m of elevation. Flowering in spring.
Description: Evergreen tree, broadly conical, single-trunked, up to 35 m tall. Bark grey, rough, thick, furrowed in thick plates. Twigs and leaf buds densely red or white-hairy. Leaves alternate, short petiolate with 2 stipules, leaf narrowly to broadly elliptic to oblanceolate, 10–25 × 5–12 cm, thick leathery, wedge-shaped base, apex acute to short acuminate, rarely obtuse, lower surface glabrous to densely red-brown furry, upper surface bright green, lustrous, glabrous. Flowers strongly lemony fragrant, 15–30 cm across, 2 spade-like bracts; tepals creamy white; stamens 200–400, 16–29 mm; filaments purple; pistils 50–90. Fruits cylindrtic to obovoid, woody, 7–10 × 3.5–5 cm; follicles beaked, fuzzy; seeds lenticular to ellipsoid, 12–14 mm, slightly grooved, aril red.
Use: It belongs among the noblest North American broadleaved trees and is cultivated in the US and many other countries in a large number of horticultural cultivars.
Native tribes used the bark for skin problems and kidney ailments.
Note: This species is highly variable, especially in leaf form. Southern Magnolia is the state tree of Louisiana and Mississippi.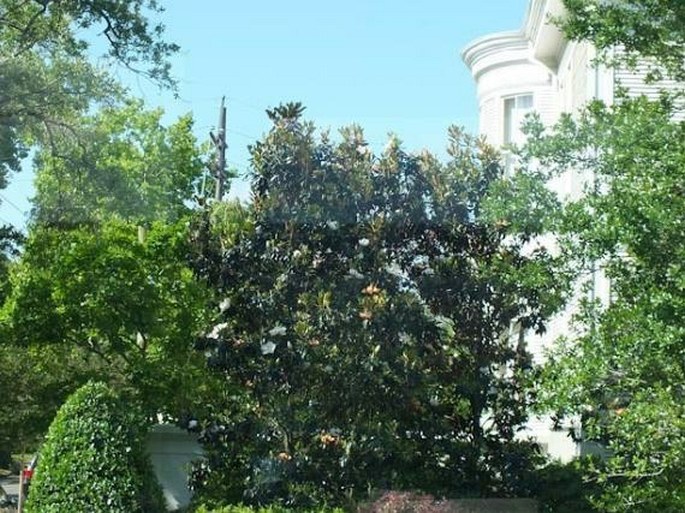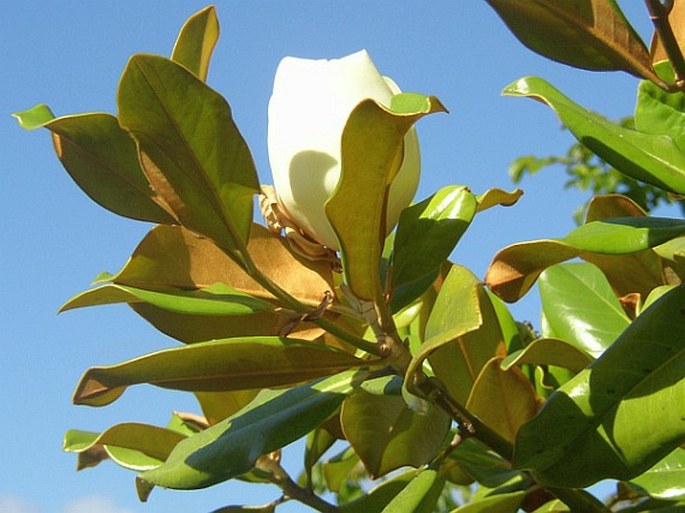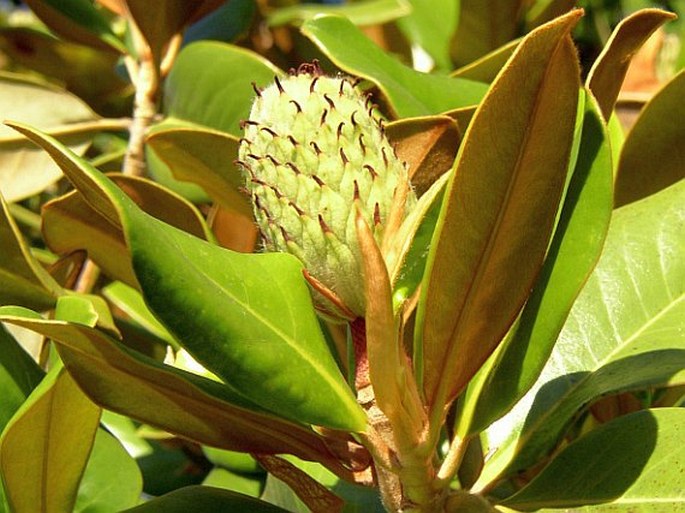 These images were taken in USA, Louisiana, New Orleans (by Karel Bergmann, May 2014), and Portugal, Madeira, Funchal (by Ladislav Kovář, June 2005).