Syn.: Hypolytrum floribundum Nees ex Steud., Hypolytrum seychellense C. B. Clarke, Thoracostachyum angustifolium C. B. Clarke, Thoracostachyum floribundum (Nees ex Steud.) C. B. Clarke
Family: Cyperaceae Juss.
Distribution: This species is known only from the highest islands of Seychelles archipelago (Mahé, Praslin and Silhouette). Genus Mapania contents about 85 pantropically distributed taxa.
Ecology: Under-storey of evergreen forests on granit hills in middle altitudes. It prefers shaded damp places in very hot and humid climate with annual average of temperature reached up to 27 °C and annual rainfall about 1500 mm.
Description: Robust tufted perennial graminoid herb. Sterile shoots are very short, with plicate leaves 1–2 m long and 7–10 mm broad, sligthly spiny on margins. Inflorescence is much branched, with numerous ovoid many-flowered spikes about 7 mm long; glumes are spirally imbricated, dark brown; flowers are bisexual; pistil 2-carpellate, with 2 styles. Achenes are small.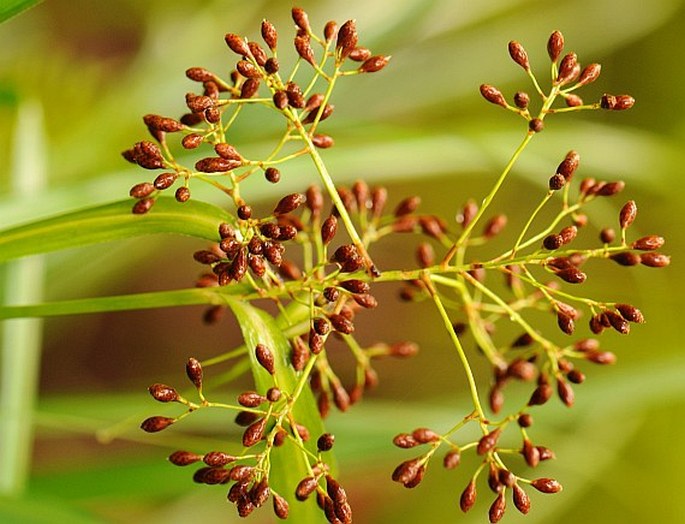 These images were taken in Seychelles, Mahé Is., NP Morne Seychellois: Val Riche; Praslin Is., NP Vallée de Mai (by Vít Grulich and Alena Vydrová, February 4 and 9, 2011).