Syn.: Cheiranthus tricuspidatus L., Hesperis tricuspidata (L.) Lam., Triceras tricuspidata (L.) Maire in Bull.
Family: Brassicaceae Burnett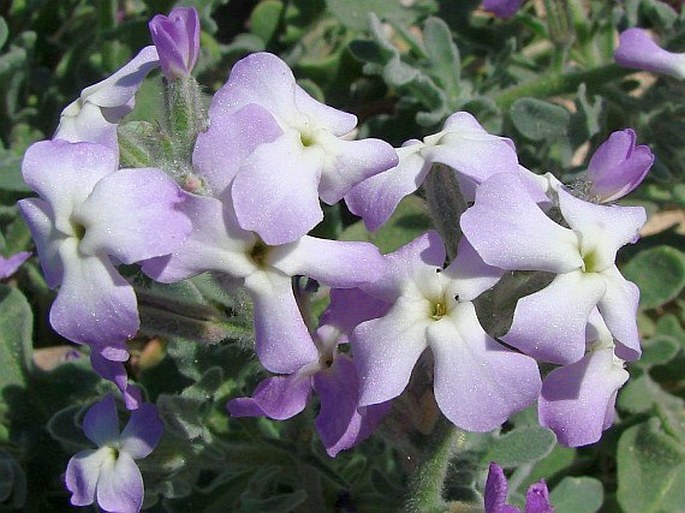 Distribution: Mediterranean species, it occurs almost throughout the area with the exception of the Adriatic coast.
Ecology: It grows on cliffs and sandy shores. It blooms from March to June.
Description: Annual herb, 10–30(–40) cm tall, gray-green, hairy. Stem ascending to erect, branched from the base. Leaves oblanceolate in outline, sinuate-crenate to pinnatisect, lobes ovate, rounded at the apex, basal leaves about 7 × 2 cm, upper cauline leaves only 3.5 × 1.3 cm. The inflorescence is a terminal raceme; flowers tetramerous, sepals 7–11 mm, petals 15–22 mm, pale purple, rarely white. The fruit is a cylindrical siliqua, 3–5.5 cm long, with 3 equal triangular horns at the apex.
Threat and protection: The Three-horned Stock is protected by law in France.
Note: The genus was named in honor of the Italian physician and botanist Pietro Andrea Matthioli (1501–78).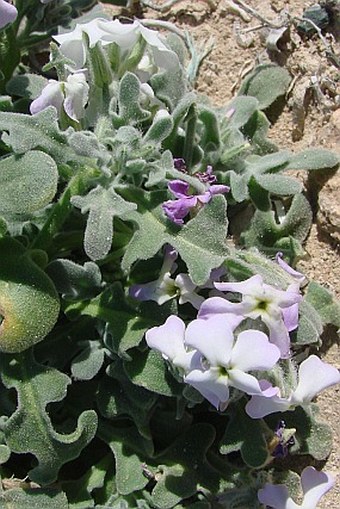 These images were taken in Cyprus, Akamas (March 30, 2010).