Syn.: Cerophora angustifolia Raf., Cerophora inodora Raf., Cerophora lanceolata Raf., Cerophora spicans Raf., Cerothamnus ceriferus (L.) Small, Myrica cerifera L., Myrica mexicana Humb. et Bonpl. ex Willd., Myrica xalapensis Kunth
Family: Myricaceae Kunth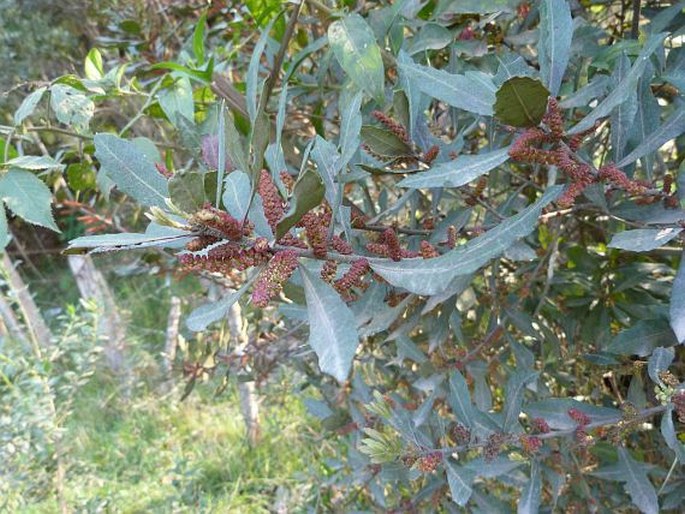 Distribution: American species – from New Jersey to Florida, westward to Oklahoma and Texas, Mexico, Central America, Greater Antilles, Bermuda.
Ecology: It grows in pine forests, mixed deciduous forests, bogs, edges of marshes, ponds, and swamps, on coastal sand dunes, fields, at elevations from sea level to about 1800 m asl. Blooms throughout the year.
Description: Evergreen shrubs or small trees, 1–9(–14) m tall. Branchlets reddish brown, densely gland-dotted when young, otherwise glabrous to densely pilose, eventually glabrate. Leaves short-petiolate, oblanceolate to obovate, (1.1–)2–9(–13.3) × 1–2(–3.3) cm, leathery, base cuneate to attenuate, margins entire or with 3 or 4 blunt teeth distally on each margin, major secondary veins usually less than 9 on each side ond often obscure, apex acute to slightly rounded; surfaces abaxially pale yellow-green, glabrous except for pilose midrib, adaxially dark green, glabrous to pilose, both surfaces densely glandular. Inflorescences erect, borne in axils of leaves, male spike 1–3.5 cm long, with 15–40 flowers, female 1–3 cm long, with 8–30 flowers; flowers unisexual, male flowers with a bract shorter than staminal column, densely ciliate, stamens mostly 3–4, bracteoles of female flowers persistent in fruit, pistil about 3 mm long. The fruits are globose-ellipsoid, 2–3.5(–4) mm. Morella cerifera is an extremely variable species.
Use: The species was used by various tribes of Native Americans for medicinal purposes – to treat fevers, inflamed tonsils and stomachaches, and as a stimulant.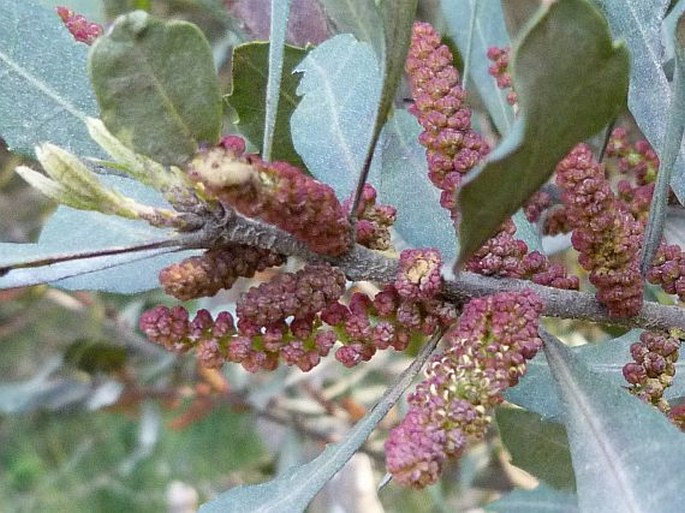 These images were taken in Guatemala, Nebaj (by Jindřiška Vančurová, February 7, 2015).