Syn.: Hedysarum venosum Desf.
Family: Fabaceae Lindl.
Distribution: Endemic species of Cyprus, common in many parts of island.
Ecology: It grows on dry bushy slopes, on dry hillsides, mostly on limestone but also on igneous rocks, especially near the coast to elevations of up to 950 m. Flowers from February to March.
Description: A perennial herb, 10–25 cm high. The stem is short, prostrate to ascending, leaves alternate, petiolate, odd-pinnate, up to 12 cm long, petals (5–9) elliptic to ovate, 10–20(–40) mm long and 5–30 mm wide, entire, hairy along margins, dark green with bronze venation. Flowers in axillary racemes, with yellow petals with conspicuous red nerves. The fruit is a hairy pod.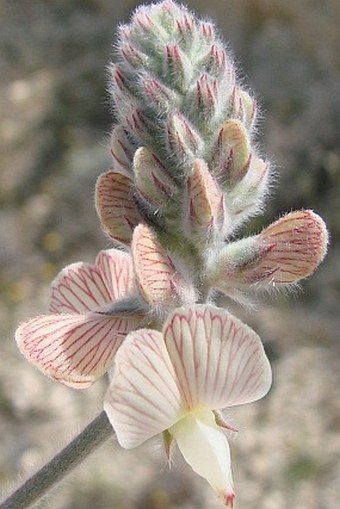 These images were taken in Cyprus, outskirts of Limassol (March 27, 2010).