Syn.: Anacamptis papilionacea (L.) R. M. Bateman, Pridgeon et M. W. Chase, Herorchis papilionacea (L.) D. Tyteca et E. Klein, Orchis rubra Jacquin in Murray, Orchis decipiens Tod., Orchis expansa Ten., Vermeulenia papilionacea (L.) Á. Löve et D. Löve
Family: Orchidaceae Juss.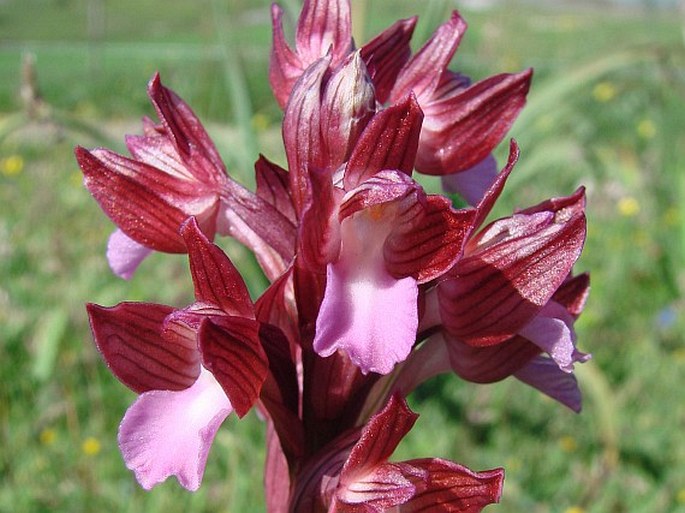 Distribution: Mediterranean species, northward to the Alps foothills and Romania, and occurs also in the Caucasus.
Ecology: It grows on meadows and pastures, garrigue and forest margins, up to an elevation of 1800 m. It blooms from March to May.
Description: Perennial herb with globose tubers, 15–40 cm tall. Stem erect with basal rosette of leaves (3–9). Leaves lanceolate to linear-lanceolate, up to 18 cm long and 1.5 cm wide. Spike ovoid, lax, to 15-flowered; bracts lanceolate, flowers purple, rarely red or brownish, all perianth-segments convergent into a galea, outer 10–15(–18) mm, ovate-oblong, inner similar, labellum 12–16(–25) × 12–16(–25) mm, entire, unguiculate, suborbicular or obcordate, spur deflexed, cylindrical, up to 14 mm long. The fruit is a capsule.
Threat and protection: This species is included in the list of species protected by CITES and protected by law in Serbia.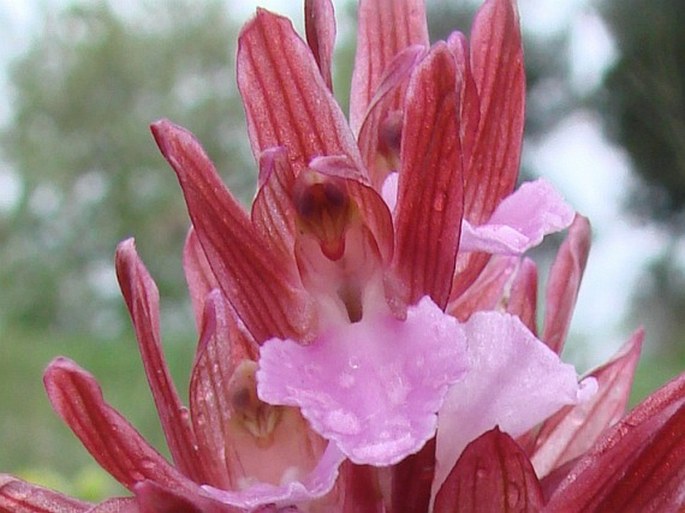 These images were taken in Italy, Gargano, Valle Carbonara (April 17 and 20, 2008).