Syn.: Abolboda sceptrum Oliv.
Family: Xyridaceae C. A. Agardh
Distribution: Tropical South America – this species occurs on the Guiana Shield, in northern Brazil, in southeastern Venezuela and Guyana, it is endemic to a relatively small area on the border of the three countries. It was described from Roraima in 1886.
Ecology: It grows on wet rocks, rocky terraces, especially on the summit plateau of Mount Roraima.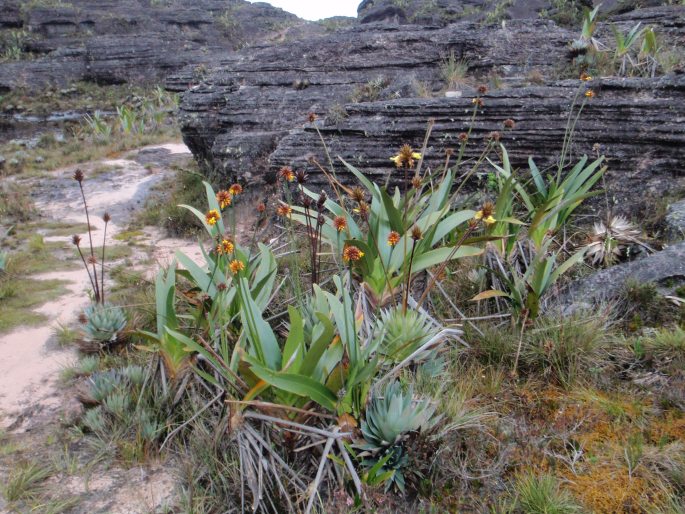 Description: Perennial herb up to 2 m tall. Stem erect, short, only 20 cm long. Leaves crowded in a rosette, ensiform, entire, glaucous. Flowers in a terminal capitulum on a long stalk, calyx trimerous, sepals curved, red, corolla funnel-shaped, trimerous, yellow. The fruit is a capsule.
Note: The Neotropical family Xyridaceae includes 5 genera: Abolboda Humb. et Bonpl. (23 species), Achlyphila Maguire et Wurdack (1 species), Aratitiyopea Steyerm. et P. E. Berry (also monotypic), Orectanthe Maguire (2 species) and Xyris L. (390 species).
These images were taken in Venezuela, Roraima (by Jindřiška Vančurová, September 18, 2008).