Syn.: Argyrochaeta bipinnatifida Cav., Argyrochaeta parviflora Cav., Echetrosis pentasperma Phil., Parthenium glomeratum Rollins, Parthenium lobatum Buckley, Parthenium pinnatifidum Stokes, nom. illeg.
Family: Asteraceae Bercht. et J. Presl
Distribution: The species is native to Mexico, Antilles, Central America and South America, naturalized in tropical Africa, southern and southeastern Asia, Australia, Pacific Islands and USA. Parthenium hysterophorus is a noxious weed.
Ecology: It grows as weed in fields, pastures, disturbed sites, along roadsides, from sea level up to 1500(–3500) m asl. Blooms from February to November.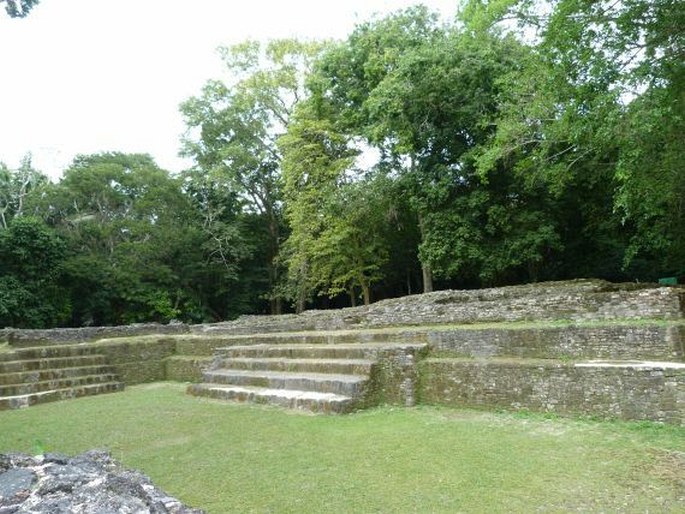 Description: Annual herbs, (10–)30–120 cm tall, strigose and scabrous. Stems erect, much branched. Leaves alternate, petiolate, ovate to elliptic in outline, 30–180 × 10–50(–90) mm, (1–)2-pinnately lobed, the segments lanceolate to linear, 3–50 × 2–15 mm. Capitula obscurely radiate, borne in open, paniculiform arrays; peduncles 1–8(–15) mm; the outer phyllaries 5(–6), lanceolate, 2–4 mm, the inner ones 5(–6), ovate to orbiculate, 2.5–4 mm; female florets 5(–6), corolla laminae reniform or orbiculate to oblong, 0.3–1 mm; disc florets 12–30(–60), functionally male. The fruits are cypselae, 1.5–2(–3.5) mm long.
Note: This weed is considered to be a cause of allergic respiratory problems, contact dermatitis. The genus Parthenium includes about 16 species which occur in America.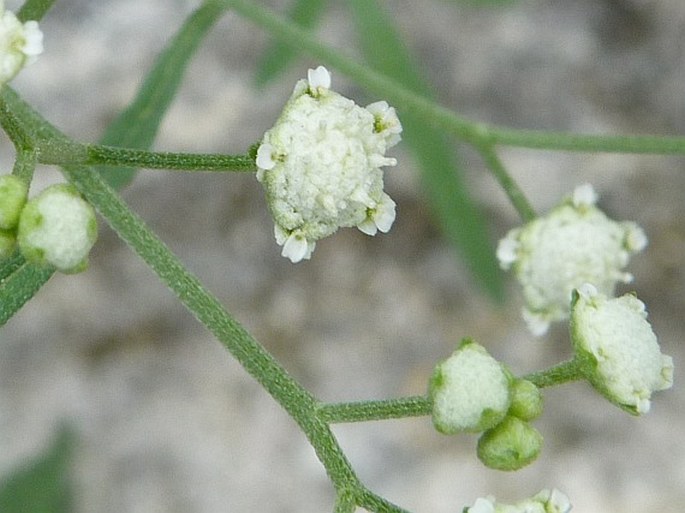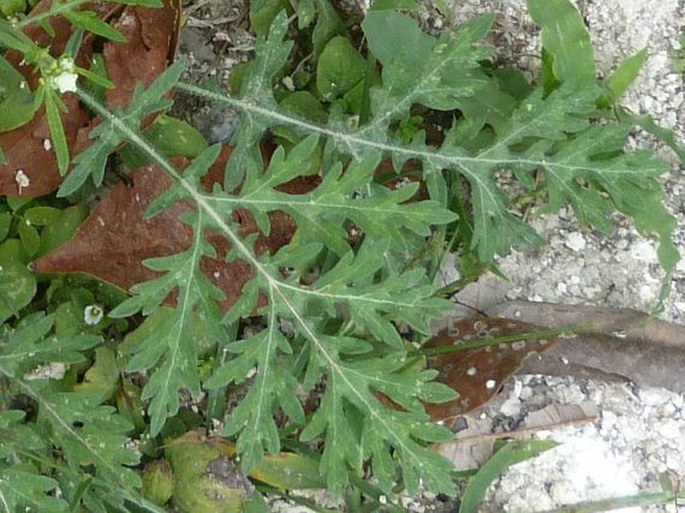 These images were taken in Belize, Lamanai (by Jindřiška Vančurová, February 21, 2015).