Syn.: Pittosporum senacia subsp. wrightii (Hemsl.) Cufod.
Family: Pittosporaceae R. Br.
Distribution: Endemic to the Seychelles Archipelago, it is known only from two highest islands (Mahé and Silhouette).
Ecology: It grows on bouldery slopes and margins of glacis, at altitudes from 200 to 500 m a. s. l. The climate is stable over the year, with average annual temperature up to 25 °C and annual rainfall to 1500 mm.
Description: Evergreen shrub or small tree, 4–5 m high. Leaves are crowded towards the tops of branches, alternate, ovate to lanceolate, rather leathery, 7–15 cm long and 4–7 cm wide, bright green, shiny, wavy, cuneiform to base. The inflorescence is corymbose; flowers 5-merous; sepals united only at base, their lobes lanceolate; petals 0,5–1 cm long, yellowish to whitish; stamens 5; pistil 2-carpeled, ovary superior. The capsule is globose, about 1 cm in diameter, orange when ripe, seeds are bright red, sticky.
Note: This species is closely related to Pittosporum senacia, which is known from Madagascar and Réunion; it is distinguished several subspecies of this taxon. The taxonomic evaluation of the Seychellan populations is not resolved.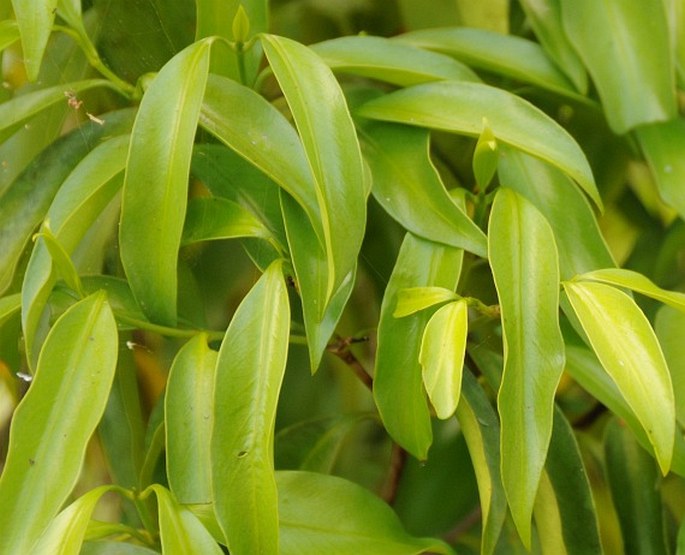 These images were taken in Seychelles, Praslin, Anse Volbert, in culture (by Vít Grulich and Alena Vydrová, February 9, 2011).