Syn.: Conyza carolinensis Jacq. , Conyza cortesii Kunth, Pluchea cortesii (Kunth) DC.
Family: Asteraceae Bercht. et J. Presl
Distribution: From southern Florida and Mexico through Antilles and Central America to Venezuela. The species is naturalized in Taiwan, Ryukyu Islands, Pacific Islands (Hawaii, French Polynesia, Kiribati, Mariana Islands, Marshall Islands, New Caledonia, Tonga, Vanuatu).
Ecology: It grows in seasonally inundated low forest, pine-oak forests, dry savannas, on Mayan ruins, along the roadsides, in disturbed areas, at elevations up to 2500 m asl. It blooms year-round.
Description: Shrubs, 1–4(–5) m tall, aromatic, with many lateral branches. Stems irregularly angled, subtomentellous to sometimes glabrate. Leaves alternate, petiolate, blade elliptic to oblong-obovate or ovate, 4–15 × 1.5–6 cm, the upper surface puberulent to nearly glabrous, abaxial surface subtomentellous to puberulent, weakly glandular, base acuminate to acute, the margins entire or nearly so, apex acute to obtuse. Capitulescence a broadly rounded terminal corymbiform panicle to 15 × 20 cm, with numerous capitula; peduncles 4–10 mm; capitula 6–8 mm; involucre about 4.5 × 8–10 mm, hemispheric to campanulate; phyllaries many, 3–4-seriate, pubescent, occasionally weakly glandular, becoming glabrous, especially toward tips of inner phyllaries; the outer phyllaries 2–2.5 × 2 mm, ovate, apically rounded; the inner phyllaries 3–4.5 × 1–1.5 mm, linear, densely pubescent; peripheral (pistillate) florets filiform, corolla 3.5–4 mm, reddish-purplish; inner (functionally staminate) florets 5–15 (or more); corolla tubular, 4–5 mm, reddish. The fruits are cypselae, 0.5–1 mm long, with a pappus.
Use: It is used medicinally – aromatic baths, control of fever, relief of sore throat and stomach pain, poultices for wounds and skin ulcers, as an analgesic, and for the treatment of malaria.
Note: This genus contains about 80 species which occur in Africa, southeastern Asia, Australia, Pacific Islands and in North and South America.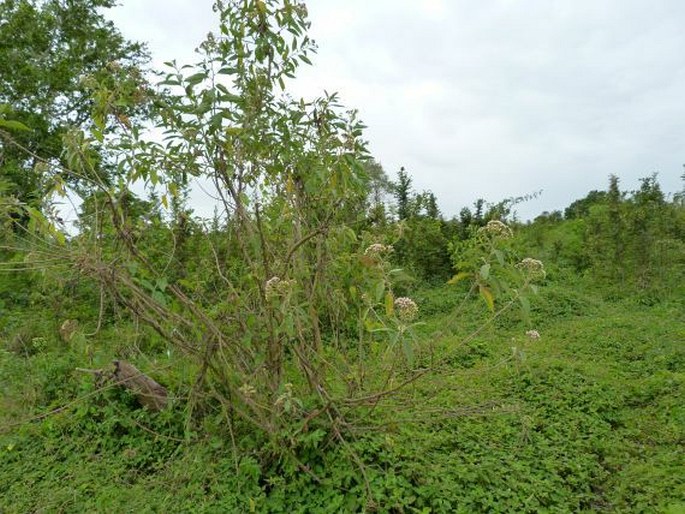 These images were taken in Guatemala, San Pedro (by Jindřiška Vančurová, February 3, 2015), and in Belize, Orange Walk (by Jindřiška Vančurová, February 20, 2015).