Syn.: Gardenia suaveolens Vell., Oxyanthus isthmia W. Mill. et L. H. Bailey, Posoqueria decora DC., Posoqueria insignis (Schult.) Nees, Posoqueria lucida Mart., Posoqueria macrophylla (Kunth) Hemsl., Posoqueria macropus Mart., Posoqueria metensis (H. Karst.) Knuth, Posoqueria multiflora Lem., nom. illeg., Posoqueria mutisii (Kunth) Standl., Posoqueria panamensis (Walp. et Duchass.) Walp., Posoqueria panamensis subsp. grandiflora (H. Karst.) Steyerm., Posoqueria revoluta Schrad., Posoqueria spraguei Wernham, Solena decora (DC.) D. Dietr., Solena latifolia Rudge, Solena revoluta (Schrad.) D. Dietr., Stannia grandiflora H. Karst., Stannia metensis H. Karst., Stannia panamensis Walp. et Duchass., Tocoyena insignis Schult., Tocoyena latifolia (Rudge) Lam., Tocoyena longifolia Kunth, Tocoyena macrophylla Kunth, Tocoyena mutisii Kunth, Tocoyena speciosa Rich., Ucriana humboldtii Spreng., Ucriana macrophylla (Hemsl.) D. Dietr., Ucriana mutisii (Kunth) Spreng.
Family: Rubiaceae Juss.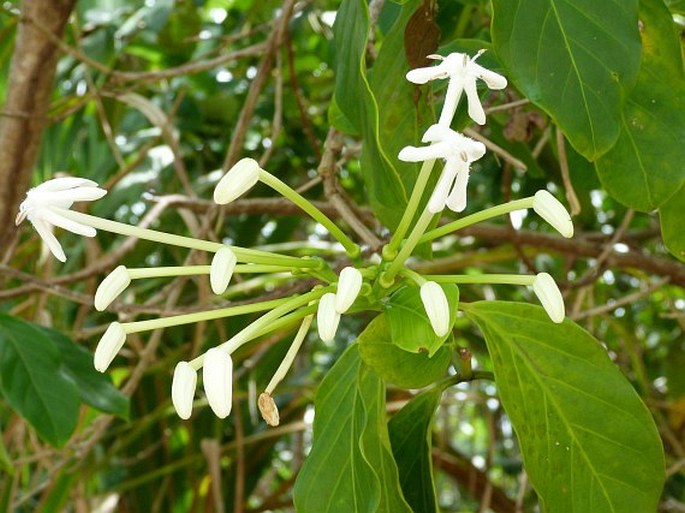 Distribution: Central America and north of South America – from southern Mexico through Panama to Colombia, Venezuela, Guianas, Amazonian Peru and Brazil (Amazônia, Caatinga, Cerrado, Mata Atlântica, Pampa, Pantanal).
Ecology: It grows in rainforests, at elevations up to 700 m asl.
Description: Tree 9–12 m tall. Leaves opposite, petiolate, oblong to ovate oblong, 6–27 × 3–15 cm, rounded at the apex, obtuse, cuneate, acute, rarely truncate at the base, the margin usually revolute, shiny and glabrous above, glabrous to occasionally puberulent beneath; the stipules triangular, 1–1.3 cm long, coriaceous, glabrous. Inflorescences terminal, flowers subsessile; calyx 0.5–2 mm long; corolla white, slender, the tube 4–12.5(–16) cm long and 0.2–0.4 cm wide, glabrous outside, puberulent at the base and at the mouth within, lobes reflexed at maturity, narrowly oblong, 1.2–1.7 cm long. Fruits globose, 4–5(–6.7) cm in diameter, orange, maturing yellow, glabrous.
Use: The pulp of the fruit is edible.
Note: The Neotropical genus Posoqueria contains about 25 species.
These images were taken in Panama, Bocas del Toro, Bastimentos (by Jindřiška Vančurová, March 9, 2014).