Syn.: Anacheilium cochleatum (L.) Hoffmanns., Encyclia cochleata (L.) Dressler, Encyclia lancifolia (Pav. ex Lindl.) Dressler et G. E. Pollard, Epidendrum cochleatum L., Epidendrum lancifolium Pav. ex Lindl., nom. inval., Phaedrosanthus cochleatus (L.) Kuntze
Family: Orchidaceae Juss.
Distribution: The species of Central America and northern part of South America – from Florida and Mexico through Honduras, Costa Rica, Panama and Antilles to French Guiana, Surinam, Guyana, Venezuela, Colombia and Ecuador.
Ecology: It grows as an epiphyte in broadleaf forests, in hammocks and cypress swamps, on trees and rocks, at elevations from 100 to 1350 m asl. Blooms from October to March. It is commonly encountered as cultivated plant, well grown plants can produce flowers all year round.
Description: Perennial herb to 60 cm tall. Pseudobulbs ovoid to fusiform, usually elongate, flattened, 3–15 × 1–3.5 cm; leaves 1–3, oblong-lanceolate to linear-lanceolate, 5–40 × 1–6 cm. Inflorescences racemes, rarely paniculate, pedunculate, elongate, few-flowered, to 45 cm, base with 1 or 2 spathes; flowers non-resupinate, green to yellowish green with a few purplish spots near base; sepals and petals similar, linear-lanceolate, 25–35 × 3–6 mm, lip deep purple, orbiculate-cordate, 13–18 × 11–27 mm, base whitish marked with conspicuous purple veins. The fruit is a 3-winged capsule, 2–4 cm long.
Threat and protection: The Cockleshell Orchid is protected by the Convention on International Trade in Endangered Species of Wild Fauna and Flora (CITES).
Note: Prosthechea cochleata is the national flower of Belize, where it is known as the Black Orchid. Commonly named for the deep-purple lip of the flower, it is also referred to as the Cockleshell Orchid for its resemblance to a seashell.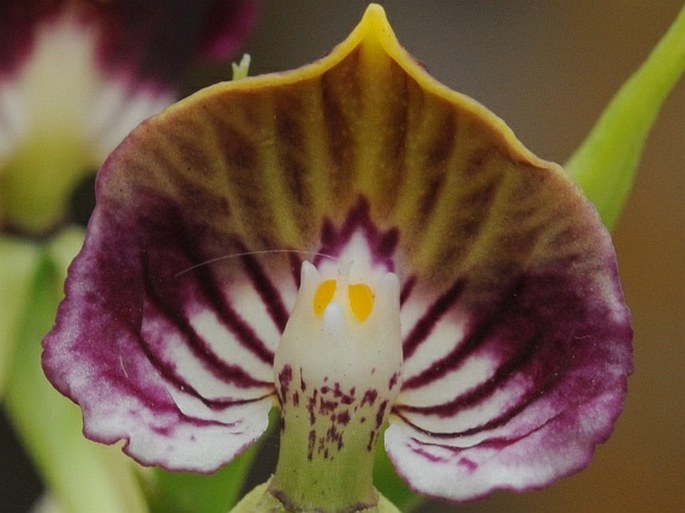 These images were taken in Belize, Xunantunich and Lamanai (by Jindřiška Vančurová: February 18, and February 21, 2015), Costa Rica, Jardín Botánico Lankester (by Alena Vydrová and Vít Grulich: March 2, 2009).