Syn.: Dryopsila virens (Aiton) Raf., Quercus virens Aiton, Quercus sempervirens Walter, Quercus andromeda Riddell
Family: Fagaceae Dum.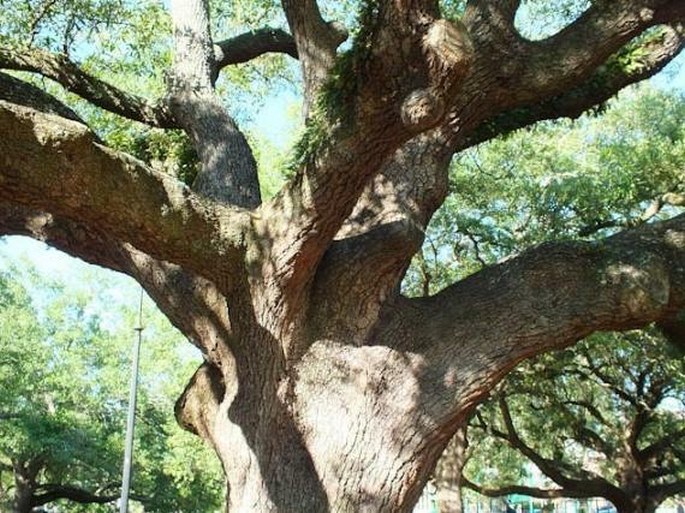 Distribution: North American species found in coastal areas from Virginia to Florida and along Gulf of Mexico to Texas, where it reaches farther inland. Scattered populations are found in south western Oklahoma, Cuba and north east Mexico. In its area of distribution 2 more varieties are recognized, Q. v. var. fusiformis and Q. v. var. geminata.
Ecology: Grows in sandy, dry and moist soils mostly in coastal areas. Found in association with Water Oak (Quercus nigra), Laurel Oak (Q. laurifolia), Southern Magnolia (Magnolia grandiflora), and Sweetgum (Liquidambar styraciflua). Blooms from March to May.
Description: Evergreen, monoecious tree, although not exceeding 25 m in height, crown span can reach 45 m and the massive trunk can be 200 cm in diameter. The roots are wide spreading and still deep reaching, thus enabling the tree to withstand hurricane-force winds. It is fast growing and easily transplanted when young. The twigs are downy, the bark is charcoal grey with shallow fissures making a coarsely checkered pattern. Leaves are elliptic or oblong, leathery and normally smooth-edged, occasionally with a few spiny teeth, glossy dark green above, with greyish or whitish hairs below. Male flowers pedicelate catkins, female flowers solitary or in clusters. Fruits are acorns, solitary or in small clusters, half enclosed in light brown cup, small, 1–2.5 cm long, ovoid or oblong-ellipsoid, light brown to black.
Use: Native tribes used the acorn for production of cooking oil and all parts of the tree for medicinal purposes.
Note: Live Oak is an iconic tree of the Old South of US, celebrated in literature, both old and modern. Why Live Oak? Although the tree is deciduous, the falling leaves are replaced continuously and the tree in contrast with winter dead oaks (leafless) and other deciduous trees make it look live all the time.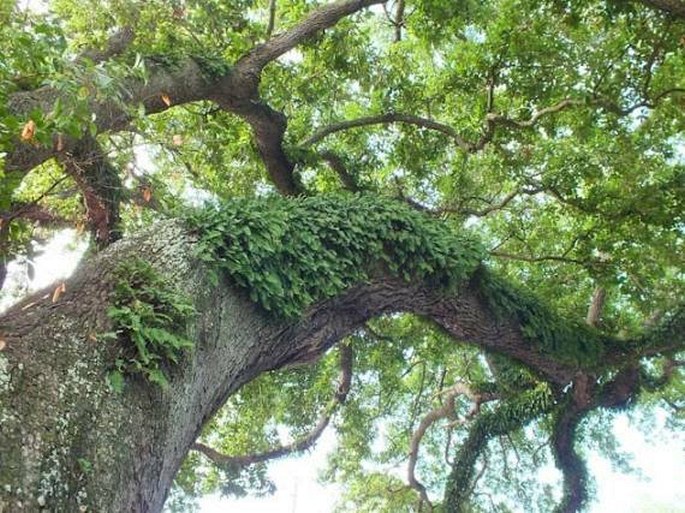 These images were taken in USA, southern Louisiana (May 2014).