Syn.: Chaixia serbica (Pančić) O. Schwarz
Family: Gesneriaceae Rich et Juss.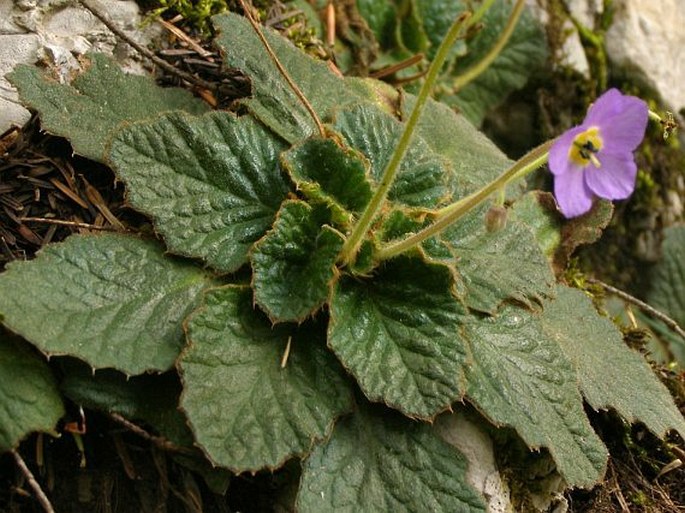 Distribution: Tertiary relict. It occurs in mountains of Albania, southern Montenegro, Kosova (Prokletije, Sharr Mts.), western Macedonia (Korab, Mavrovo, Galicica and other mountain ranges on border with Albania), northern Greece (Timfi, Mitsikeli, Bela Voda). Isolated population is in southeastern Serbia and adjacent part of northwestern Bulgaria (Suva planina Mts. and some other calcareous mountains around).
Ecology: Shady crevices of calcareous rocks in altitude 400–1500 m asl. Flowering from end of April to beginning of July.
Description: Perennial herb, leaves 4–7 × 2–3.5 cm, obovate, irregularly gross-dentate or shallowly lobed, tapering to an distinct, short and broad petiole. Scapes often several from each rossete, 5–12 cm long, bearing 1–3 erect or slightly nodding flowers. Scape, pedicels and calyx glandular-pubescent. Flowers (4–)5-merous. Calyx divided almost to base into broadly oblong, obtuse lobes. Corolla broadly campanulate with erecto-patent lobes, 25–35 mm in diameter, violet or pinkish-violet, with ginger brown wool at base of lobes. Anthers obtuse, violet-blue. Style 4–7 mm, capsule about 10 mm long, sparsely glandular-pubescent.
Possible confusion: Another species of this genus occuring on the Balkans is Ramonda nathaliae Pančić et Petrovič. It has regularly crenate-dentate leaves, petiole at least half as long as blade, usually 4-merous, rotate corolla and usually yellow anthers. It grows in southeastern Serbia, central and southern Macedonia and also in northern Greece.
Threat and protection: Protected species in Serbia, included in the Berne Convention and the Habitats Directive (Council Directive 92/43/EEC).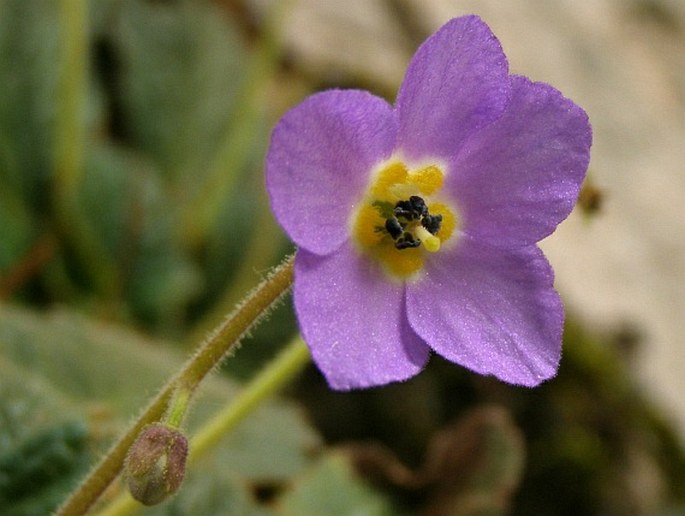 These images were taken in Albania, Mali i Nemërçkës, Draçova (July 6, 2013).