Syn.: Azalea ferruginea (L.) Kuntze, Chamaerhododendron ferrugineum (L.) Bubani, Plinthocroma ferrugineum (L.) Dulac
Family: Ericaceae Juss.
Distribution: Mountains of Europe – the Pyrenees, Alps, Jura, Northern Apennines, Dinarides. It has been introduced to the Bohemian Massif (Králický Sněžník).
Ecology: It grows on grassy meadows, mountain pastures and stony slopes, in woodland margins, on acid soils, from mountains to alpine altitudinal zone (up to 2840 metres above sea level). Blooms from June to August.
Description: A small and evergreen shrub, 30–120(–150) cm high. The leaves are eliptic, entire, with inrolled margins and rusty scales beneath. The flowers are in clusters of 6–10, bell-shaped corolla is about 1,5 cm long, pinkish-red. The fruit is a capsule.
Threat and protection: The Alpine-rose is a protected plant in Austria, Italy, Slovenia and Serbia.
Note: This plant is moderately toxic, contains several poisonous glycosides.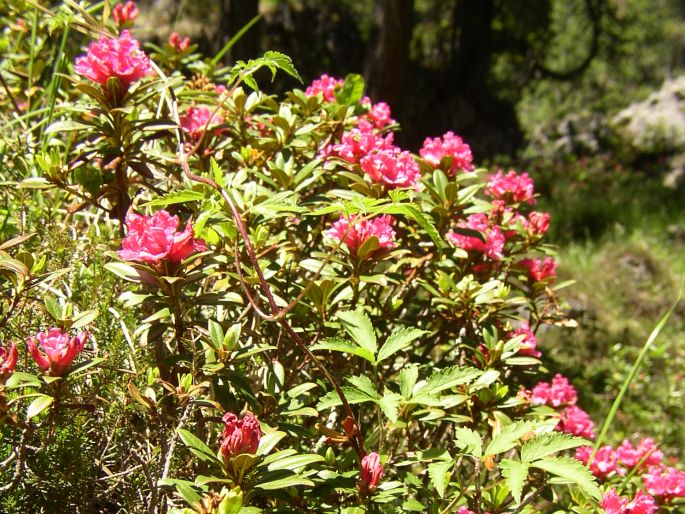 These images were taken in Italy, the Dolomites, Passo di Falzarego (June 19, 2005).