Syn.: Galium peregrinum (L.) Franch., Rubia lucida L., Rubia reiseri Halácsy ex Hayek
Family: Rubiaceae Juss.
Distribution: Mediterranean and Macaronesia, its range extends to the southern part of the British Isles.
Ecology: It grows on rocky hillsides, rocks and walls, in macchia, often on limestone, from coast to an elevation of about 2100 m. It blooms from April to August.
Description: Perennial herb. Stem 30–250(–700) cm long, climbing, glabrous or retrorse-aculeolate. Leaves 15–60(–100) mm long and 3–20(–30) mm wide, in whorls of 4–6(–8), linear to broadly ovate-elliptical, coriaceous, green. Inflorescence many-flowered, distinctly exceeding the leaves, cymes 4–10 cm long, corolla with short tube and 5 lobes, 4–6(–8.5) mm in diameter, yellowish-green, lobes 2–3 mm. The fruits are fleshy berries.
The species is variable in the shape and size of the leaves.
Note: The genus includes about 60 species that occur in the temperate zones of Europe, Asia, Africa and America.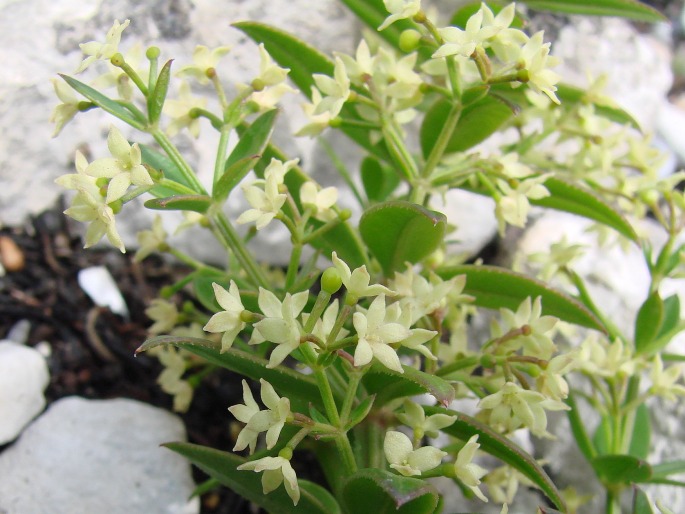 These images were taken in Italy, Gargano, Vieste (by Ladislav Kovář, April 19, 2008), and Croatia, Blato (by Naďa Gutzerová, September 27, 2011).