Syn.: Saxifraga gouanii f. cernagorica N.Terracc., Saxifraga media var. sibthorpiana Griseb., Saxifraga thessalica Schott
Family: Saxifragaceae Juss.
Distribution: Mountains of the Balkans from Montenegro and central Bulgaria to the Peloponnese in the south. It occurs also in western Anatolia, close to Bursa.
Ecology: Crevices of carbonate rocks in altitudes between 1600–2900 m.
Description: A perennial plant forming loose cushions or mats. Outer rosette leaves usually 5–15 × 1.5–2.5 mm, linear-oblong to oblanceolate, acute, greyish-green, rigid to rather soft, with narrow hyaline margins, ciliate only at the base. Flowering stems 6–15 cm, glandular-pubescent, reddish-purple, with 10–15 cauline leaves usually less than 10 mm long. Inflorescence a spike-like raceme with 6–16 flowers, nodding in bud and at early anthesis, erect in fruit; cauline leaves and bracts reddish-purple with green tips. Calyx usually densely glandular-pubescent, deep reddish-purple; sepals acute to subacute, glandular-ciliate. Petals 2.5–3 × 1–2 mm, somewhat shorter than the sepals, reddish-purple, entire or crenulate at the apex. Beaks of capsule very short, not exserted from the calyx.
Possible confussions: Another species from the group of S. porophylla on the Balkans is S. federici-augusti with wider and at the apex more or less obtuse leaves.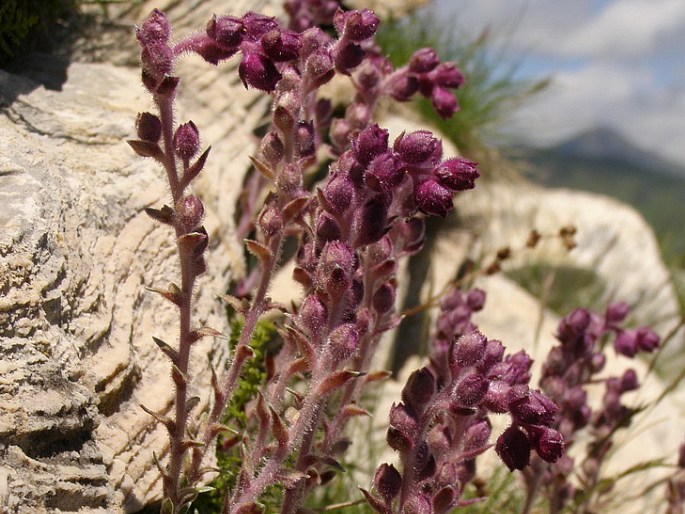 These images were taken in Albania, Prokletije, Shkëlzen and Maja e Zeze (July 4 and 6, 2011).